Doi Phu Kha National Park
Introduction
Doi Phu Kha National Park covers 1680 square kilometres of forested mountains in Nan province, close to the border with Laos. These limestone mountains reach a height of 1980 metres (6140 feet) above sea level with three types of forest present; dry dipterocarp, mixed deciduous and hill evergreen. The high peaks and ridges continue to reveal new birds in this seldom visited park, which was only designated in June 2000. Doi Phu Kha is a lovely place to rest and explore side trails off of the long road through the park, hopefully resulting in sightings of some exciting species.

The best time to visit for birdwatchers is between November and February when there is little rain and large numbers of migrant birds are present. As one proceeds up the road accessing the park, a fabulous view across mountain ridges reveals itself. Within the park spectacular views remain a feature from a number of points, particularly the viewpoints along the road 5 and 9 km from the headquarters.


Forested Ridges - Doi Phu Kha
(Photo from dnp.go.th)
About Google adverts
Birding Highlights

Beautiful Nuthatch
(Photo by Dion Hobcroft/VENT)

Doi Phu Kha has revealed a number of exciting high altitude species that were previously though to only exist in Thailand at a few sites in Chiang Mai province. Crested Finchbill, Red-faced Liocichla, Black-throated Tit and Green Cochoa have all been seen on this mountain. This location is also one of just two places in Thailand that Beautiful Nuthatch has been observed, and although this species has not been reported for a few years, it is believed to be a resident.

The much sought-after Jerdon's Bushchat also occurs here alongside swampy ponds and the majestic Black Eagle can be found quartering the hillsides. In fact, Doi Phu Kha's geographical location, size and the fact that it remains relatively unexplored, mean that there are probably a large number of species to be added to the checklist.
Click for a checklist of the birds of Doi Phu Kha
| | | |
| --- | --- | --- |
| | | Bird Tours : Check the suggested itineraries for ideas on creating a tailor-made birdwatching trip to Thailand: Thailand bird tours. |
Travel Information
Although Doi Phu Kha is quite isolated and seldom visited by foreign birdwatchers, it is actually a fairly easy place to get to.

Most people will probably be coming from either Bangkok or Chiang Mai. Whichever of these you are coming from, or from any other provincial town, the first step of the journey is to get to Nan. Buses from Mor Chit in Bangkok or the main bus station in Chiang Mai will terminate in Nan. All nearby provincial capitals also have regular bus services here too.

From Nan buses run to the small town of Pua, about 60km north of Nan; this road is well-made and quite fast, meaning that this journey takes only about an hour.

For those using public transport the good news is that songthaews run up the mountain from Pua all the way to park headquarters. For those driving, the turning is in Pua, on the right when coming from Nan: Doi Phu Kha NP is clearly signposted. This road becomes quite steep and narrow with steep drops next to the road at a few points. The road is also quite windy and all of this makes it important to drive carefully. However, a four-wheel drive is not necessary so long as your car is in good condition.

The main birding points are spread out over quite a long distance and although it is possible to get a songthaew or hitch a ride, it would be far preferable to have the benefit of ones own vehicle at Doi Phu Kha.
About Google adverts
Finding Birds
Forest anywhere along the road through the national park will reveal plenty of birds, but there are a few places which are particularly good for birdwatching.
Note: The map below is compiled mainly from memory, due to the lack of decent maps to use as reference. The road is far more windy than illustrated but the main points are fairly accurately placed, however, as far as I remember there are further side turnings and possible trails along the road. If anyone is able to add to this map please e-mail me: nickupton@thaibirding.com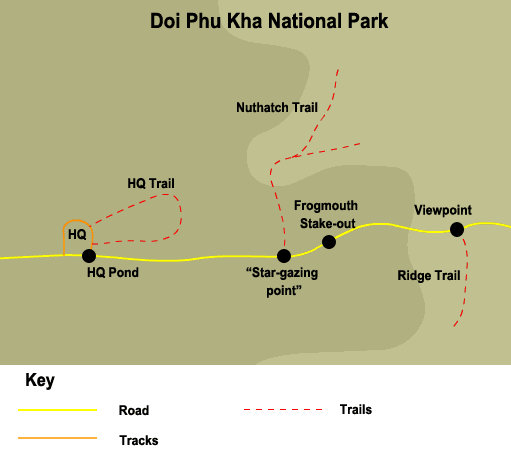 Pond at HQ Entrance: A small, swampy/reedy drainage pond at the entrance to HQ is worth spending a few moments at. As well as some forest species coming to drink here, on my visit in 2003 I flushed a male Jerdon's Bushchat from the reeds, which then sat on an overhead wire, before returning to the dense undergrowth. I also saw a Striated Heron here (unusually high altitude) and at this height I guess Black-tailed Crake would have to be a possibility. Who knows what else could show up here?

Trail from HQ: This 4 kilometre trail follows a loop starting from the campsite and finishing near the staff accommodation, or the other way around depending on where you begin. The trail is easy to follow and goes through some really nice forest patches as well as areas of secondary growth and clearings. It doesn't go high enough for many of the high altitude specialities, but it does still provide plenty of good birdwatching opportunities. Whiskered Yuhina was particularly numerous near the staff accommodation end on my visit and Chestnut-capped Babbler was present in grassy clearings. Other forest birds here include Crested Goshawk, White-browed Scimitar Babbler, Blue-and-white Flycatcher and Speckled Piculet.


Jerdon's Bushchat
(Photo by Peter Ericsson)
Headquarters: HQ is spread out over quite a large area of open forest and patches of low secondary growth. Plenty of species can be found around here including Grey Treepie, Blue Rock Thrush, Grey-backed Shrike and numerous species of bulbul.
Star-gazing point: This area is also used as a campsite and has a few foodstalls selling simple food and snacks; it is 5 kilometres from HQ - 31 km from Pua. Birding can be done along the road and from the viewpoint as well as along a few small tracks that head steeply downhill. In this area many great species can be seen such as Crested Finchbill, Blue-winged Minla, Silver-eared Mesia, Little Pied Flycatcher whilst Black Eagle can be seen quartering the hillside.
Walking north along the road leads to the "Chompoo Tree", but before reaching this a number of gullies on both sides of the road should be investigated for species such as Ferruginous Flycatcher, White-throated Fantail, White-gorgetted Flycatcher, Lesser Shortwing and Streaked Wren Babbler.
Frogmouth Stake-out: Six kilometres after HQ - 32 km from Pua, a Hodgson's Frogmouth has been heard calling on the right hand side of the road as one goes uphill. Apparently it has not responded to tape and the vegetation is very thick and the slope is very steep, so the chances of finding it may be small.

Black-throated Tit
(Photo by Suppalak Klabdee)

Nuthatch Trail: This trail begins behind a small temple-like structure which is on the left as one heads uphill, opposite the star-gazing point. The trail is very steep for about 1 hour, whereupon a ridge is reached. After walking along the ridge for about 50 metres the trail forks; take the left hand fork which becomes a bit overgrown but after about 100 metres one enters some good forest. In this area beautiful nuthatch has been seen on a number of occasions and has been confirmed to breed. Other excellent species seen up at this altitude are Black-throated Tit, Red-faced Liocichla, Striated Bulbul and Grey-cheeked Warbler which seems to be a regular here.

Ridge Trail: This trail starts at a small car park and heads off to the left along some high ridges. This is the highest point of the road and although I haven't followed this trail the quality of the habitat and altitude should mean that it is worthwhile exploring.
Facilities
About Google adverts
There are quite a number of accommodation options provided by the national park, ranging from totally dire to rather nice indeed.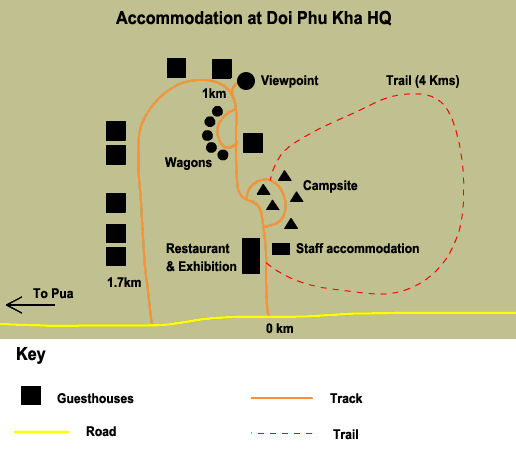 Visitors need to report to the staff upon entering, and this is done at the small restaurant area; here one can book the accommodation required.
The thatched wagons are the cheapest option (other than camping) but quite frankly they look dreadful, tiny, falling apart and damp; I should avoid these completely.
The campsite is fairly pleasant and toilets are nearby.
All the guesthouses are quite decent, but I was most surprised to find that the ones in a line on the west of the above map are really nice. They are quite big, with a small kitchen area and a long open sleeping area with large windows and a fantastic view. These guesthouses also an outside veranda to sit and enjoy the view or view birds: all guesthouses have bathrooms. Prices start from 800 baht per night and the guesthouses can sleep loads of people.
The small restaurant sells good food, but opening hours were somewhat restricted on my visit and due to the remote location many things on the menu had to be ordered a couple of days in advance in order that they could be obtained in time.
There are also a few small places to eat and buy snacks at the star-watching place and this location doubles as a second campsite; toilets are present. For those who want to hike up to the ridges, this is probably a good option, so that one can get up early and begin the hike.
It is quite likely that visitors will need to stay outside the park for at least one night, and whilst there are a number of adequate hotels in Nan, there is a rather interesting hotel just outside of Pua. The PaPua Phu Kha Hotel is a quite bizarre Swiss chalet style hotel with pleasant views of the distant mountains. Rooms are quite affordable, and although the cheapest are fairly small, they are very clean, have their own shower/toilet and TV. Western food is available, as well as excellent Thai food, and a wide range of drinks too, making this a very nice place to spend the evening before heading into the national park. The hotel is a few kilometres along the road from Pua to Doi Phu Kha.

Donations
If you found this page useful, please consider making a donation.
Other Related Pages
Related Blog Entries
Silver-eared Mesia - posted 11/01/09
Tags
birds, birding, thailand, nature, national parks