Mu Ko Similan (Similan Islands)
Introduction
Mu Ko Similan Marine National Park in Pang Nga province is an archipelago of 9 main islands in the Andaman sea. The islands and islets are composed of volcanic granite, containing small areas of beach forest and tropical forest, with some beautiful fringing coral reefs. This National Park covers 128 square kilometres, 14 of which is the sum of all the land. This is a great place to stop and recover from the rigours of birding in the hot, sweaty forests on the mainland, with a chance of seeing a few good birds and maybe adding to the list of birds seen in the National Park.
The best time to visit the Ko Similan is between December and April, when the weather is fine and the sea clear, making for good snorkelling and safer travel.

The scenery at Mu Ko Similan is spectacular, with the colours of grey rocky outcrops, white sandy beaches, lush green rainforest and clear blue seas contrasting with one another. Sunsets can be a wonderful sight here too, with it being the last place in Thailand to see the sun set each day! A visit to the Similan Islands is likely to be one that is remembered a long time after returning home.


Ko Similan Rocks
(Photo by Nick Upton)

Ko Similan Sunset
(Photo by Nick Upton)
Ko Similan is open to tourists once again after disruption by the tsunami of December 26th 2004. However, the National Park is closed anually between mid May and mid November due to adverse sea conditions.
About Google adverts
Birding Highlights
Most birders who make the trip to Ko Similan do so to see the Nicobar Pigeons which are seldom-seen bird due to the inaccessibility of the islands upon which they live. In March 2004 these were easily seen foraging around the toilets and tents in the campsite on Ko Miang (island number 4) which is a very pleasant place to stay for a few days. Other highlights are the close up views and large numbers of Pied Imperial Pigeons, and regular sightings of White-bellied Sea Eagle.

At dusk this island comes alive with fruit bats, clouds of them noisily fighting over the fruit in the trees. If you have a phobia of bats, this isn't the place for you!

Click here for a checklist of the birds of Mu Ko Similan


Nicobar Pigeon
(Photo by Srasri Phiromyothee)
| | | |
| --- | --- | --- |
| | | Bird Tours : Check the suggested itineraries for ideas on creating a tailor-made birdwatching trip to Thailand: Thailand bird tours. |
Travel Information




To go to the Similan islands, one must get to the village of Thap Lamu (pronounced Tap LaMoo). If arriving by car just take the turning off the main Phuket (PooGet) -Takua Pa ( TakooWa Par) road to the park headquarters. It is sign posted in English so it is easy to find. The headquaters is a kilometre or two from the pier, but it is the best place to park. After buying the National Park entrance ticket the staff will arrange transport to the pier where boat tickets to the island can be purchased.

If traveling by bus from the north, the quickest way is to come via Surat Thani (SooRat TarNee) and Takua Pa and get the bus to stop at the turn off for Thap Lamu. Here it will be neccessary to take a motorcycle taxi a few kilometres to the park HQ for about 20 baht. If traveling by bus from the south, any bus to Ranong from Krabi or Phuket will pass the turning for the park HQ.

From Thap Lamu there are a few companies running boats to Ko Miang. I took a speedboat for about 1500 baht per person in 2004, which only took an hour and a half. There did appear to be one slow boat per day for a lower price, but after a rather unsteady slow boat to Ko Surin, the speedboat felt very secure!
m
About Google adverts
Finding Birds
Finding birds on Ko Miang doesn't take a lot of effort due to its small size. Currently, very few species have been recorded in Mu Ko Similan National Park, so there is potential to add to this list.
Nicobar Pigeons can be easily seen in and around the campsite. I found the early morning to be the easiest time to see them foraging around the tents, but it was possible to see them later in the day, especially in the damp areas behind the toilets. They are very tame, allowing people to approach within a few metres and offering plenty of time to take photos even with the smallest of cameras.
Pied Imperial Pigeons were numerous throughout the island but it seemed easiest to get good views of them from the water at Had Lek (small beach). When I was there in March 2004 they would come to fruit trees along the bay to feed a few hours before dusk. They were particularly acrobatic in their approach to landing and can be spotted quite far away due to the contrasting colours of their plumage and the forest. Not quite as tame as the Nicobar Pigeons, they fed on fruit only a few metres above the beach and could be approached to within about 10 metres.
White-bellied Sea Eagles can be seen anywhere around the National Park, but were particularly visible from Hat Yai (big beach) in the early morning and late afternoon.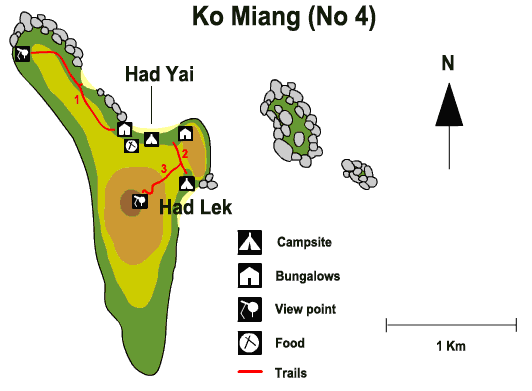 There are a few places to walk and find birds on Ko Miang;
Trail 1: This starts behind the bungalows on the west of Had Yai and runs for about one kilometre. It goes through some good-looking forest leading to a view point on a rocky outcrop. This is apparently the most westerly point in Thailand and consequently the last place in the country to see the sun set. If you go to see the sunset be sure to take a torch as the trail is quite rocky and dangerous in the dark.
Trail 2: This short trail leads from Hat Yai to Had Lek, lasting about 350 metres. The forest is very lush and there are hundreds of roosting bats in the trees. In the early morning this trail contained a few interesting birds including Forest Wagtail and White-breasted Waterhen.
Trail 3: This trail starts about halfway along trail 2, lasting about 500 metres and takes the walker very steeply up to a view point. Towards the end it is neccessary to use ropes to pull oneself up huge boulders to the top, so wear good shoes here. From the top is a spectacular view across Had Yai and Pied Imperial Pigeons can be seen flying around the tree tops. I also saw a single Green Imperial Pigeon along this trail on my visit. It would be a very good idea to climb this trail early in the morning before the temperature rises too high!

Had Yai campsite: This large campsite contains many mature trees with feeding Pied Imperial Pigeons, Asian Koels and Collared Kingfishers easily seen from the tent as well as the star of the show; Nicobar Pigeon on the ground. Brahminy Kite and White-bellied Sea Eagle can be seen from the beach itself.

Had Lek: This is where the best views of pied imperial pigeon are easily had. Collared Kingfisher and Pacific Reef Egret can also be found here. Snorkelling from this beach is recommended too, it is sheltered and uncrowded but the water is fairly deep.


Pied Imperial Pigeon
(Photo by Hans Stel)
Facilities
About Google adverts

Me at Had Yai Campsite
(Photo by Srasri Phiromyothee)

Only two of the islands have accommodation for visitors; Ko Miang (No 4) and Ko Similan (No 8). However, the long beach at Ko Hu Yong (No 1) is a nesting site for turtles and it is possible for small parties to stay here by special arrangement to view the turtles. Accomodation on Ko Similan (No 8) is limited to tents, either pre-pitched tents at 400 baht per night or your own tent at 40 baht per night/ per person. Food is sold here too.

Most birders will want to head for Ko Miang, where it is easy to see Nicobar Pigeons. For those who like a bit of comfort there are a number of National Park bungalows for rent. These can be of variable quality, and one young Thai couple I met who stayed in a bungalow said they wished they'd chosen a tent instead. However, the bungalows on stilts on the beachfront of Had Yai (big beach) looked very romantic and appealing at night.
Most people are happy to camp in the pre-pitched tents close to the beach. These are quite sizeable and although the 400 baht per night fee seems a bit much, it does include bedding rental which is provided clean every day. It is not possible to pitch your own tent on this island. Toilets and showers are plentiful, spacious and clean considering where you are but it is important to conserve water where possible.

A short walk through the forest brings you to the quieter Had Lek (small beach) where the same camping options are available, although food is not. This would mean walking a few hundred metres in the dark to eat in the evening, so bring a flashlight if intending to stay here.


Had Yai, Ko Miang
(Photo by Nick Upton)
The following table lists the accommodation available at Mu Ko Similan which are supposed to be booked before arrival at the National Park Department in Bangkok; 61 Phahonyothin Road, Chatuchak, Bangkok 10900. If your Thai isn't up to scratch I'm not sure how successful this would be, but the number to call is; 02 579 7223 or try booking through the internet at www.dnp.go.th
Please only use this list as a guide, I'm sure the prices have changed now due to restoration work after the tsunami of 2004.
Most people who want to camp just book the tents when they arrive at park headquarters on the mainland at Thap Lamu (pronounced Tap LaMoo).
Accommodation
Name
No of rooms
No of persons
Price
(baht per night)
Island No

Chom view
Similan
Poo Kai 1
Poo Kai 2
Hu Yong
Pa Yang
Pa Yan
Pre-pitched Tent
Own Tent

2000
1000
600
600
600
600
600
400
40/person
Behind the main campsite on Ko Miang there is a restaurant where decent Thai food and drinks are served. The food served is adequate but nothing to write home about, however the location makes up for it. A small selection of the normal toiletries are sold here in case you forget them and there is also a first aid room to deal with any minor accidents.
While visiting the Similans it is worth taking a snorkelling trip. These leave every day and cost 200 baht per person per day, with different locations visited every day. The coral and fish are quite impressive and sea turtles are common. Snorkelling equipment and life jackets are available for rent on the island. More extensive diving trips can be arranged with tour companies back at Thap Lamu. Mu Ko Similan is renowned for the quality of its diving locations.

Donations
If you found this page useful, please consider making a donation.
Other Related Pages
Other Southern Thailand Birding Locations
Jan Wilczur's Bird Art: Gurney's Pitta, Banded Pitta & Rufous-collared Kingfisher
Trip Reports
Useful Books
Thailand's Islands and Beaches
Photo Galleries
Tags
birds, birding, thailand, nature, national parks