Khao Soi Dao Wildlife Sanctuary
Introduction


Stream, Khao Soi Dao
(Photo by Vincent van der Spek)


Khao Soi Dao Wildlife Sanctuary is part of the highest mountain range in south-eastern Thailand and forms a large wilderness area with the adjacent Khao Kitchakut National Park. As part of the Cardomom mountains much of the avifauna found here is more closely related to that found in Cambodia than that of the rest of Thailand. Indeed, a few species can only be found in this region and a number of subspecies are unique to this area also.

Khao Soi Dao is in one of the wettest regions of the country and the lush forest found here is quite spectacular with one of the most picturesque waterfalls of any location in Thailand. This is a good place to go birding before or after a relaxing visit to the nearby Ko Chang, and an opportunity to get to an area of excellent habitat which is rarely visited by groups of birders. This wildlife sanctuary has a decent park infrastructure and a few good trails which give bird watchers the opportunity to find some very seldom seen species.
m
Birding Highlights

Blue-rumped Pitta would have to be the pick of all the species occurring at Khao Soi Dao and indeed, in Thailand this species is restricted to this Wildlife sanctuary and its immediate surroundings. Black-browed Fulvetta is another bird which is restricted to this part of Thailand as is the lewisi subspecies of Silver Pheasant.

Khao Soi Dai seems to be a consistently good place to see Needletails with White-throated Needletail recorded here fairly often, even though it is the rarest of Thailand's Needletail species. The secretive Malayan Night Heron is another bird which seems to pop up at Khao Soi Dao more often than it does in other places and a sighting of this species alone would be reason enough to visit the sanctuary.



Black-throated Sunbird
(Photo by Alister Benn)

The quality of the forest at Khao Soi Dao is such that a very large number of forest species can be found. Pompadour Pigeon can sometimes be seen near headquarters and this is also a good place to get close views of Violet Cuckoo, Asian Barred Owlet and Dusky Broadbill. Spending time in this Wildlife Sanctuary could reward birders with a long and exciting list of species as well as giving them the opportunity to add to the current checklist.
.
Travel Information
| | | |
| --- | --- | --- |
| | | Khao Soi Dao is not a particularly difficult place to get to, in fact it is ideal for people travelling on public transport. From Ekamai (Eastern) bus station on Sukhumvit Road in Bangkok take a bus to Chantaburi; this will take about 6 hours. From the bus station in Chantaburi take any bus going north towards Sa Kaeo. For those driving, this is highway number 317. At the 62nd kilometre marker there is a sign with "Khao Soi Dao Wildlife Sanctuary" written in English. Get off the bus here and walk the 4 kilometres to the Wildife Sanctuary or hitch a lift on a passing vehicle. There are a couple of small shops at this junction and it is probably possible to arrange a lift to the Wildlife Sanctaury Headquarters from one of these. Alternatively it is possible to get off at Patong market and take a motorcycle taxi to the HQ. |
Finding Birds

Just hanging around Headquarters will reveal plenty of interesting forest birds with Hill Myna, Pompadour Pigeon, Dusky Broadbill, Banded Broadbill and Large-tailed Nightjar all present on both occasions that I have visited the Wildlife Sanctuary. There are a few trails, however, which will get one further into the forest.
.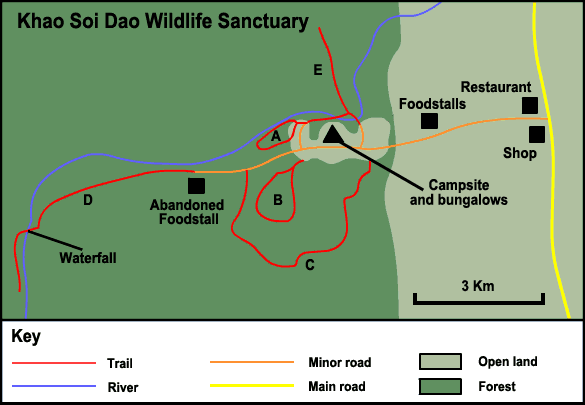 | | | |
| --- | --- | --- |
| | Campsite and bungalows : There is some excellent general birding around the campsite and bungalows where there is a small pond and some damp patches which seem to attract birds. A number of Flycatchers can be seen around here with Verditer Flycatcher often perched atop dead trees and Asian Brown, Yellow-rumped and Taiga (Red-throated) Flycatchers are often to be found in this area. Violet Cuckoo and Dusky Broadbill seem to be unusually frequent around here and the openess of the campsite is an ideal place to look for Needletail Swifts, with all three Thai species possible at various times of the year. A Spot-bellied Eagle Owl territory has been occupied for some time just beyond the HQ clearing in this region; listen for it at dusk, although apparently it can be quiet for long periods. | |


Little Spiderhunter
(Photo by Albert Noorlander)


Road to foodstall : Early in the morning this road is ideal for birders, although at weekends it can get a little busy later in the day with people heading to the waterfall. Banded Kingfisher can often be heard and seen along this track and Green Pigeons frequently fly overhead with Pompadour, Orange-breasted and Thick-billed Pigeons confirmed. Asian Barred Owlet seems to frequent this area too.

Waterfall Trail : This takes birders through the forest and upto a wonderful waterfall. It is possible to cross the river at the bottom of the falls and then climb to the top for an excellent view. The forest is good for birds with Blue-rumped Pitta and Silver Pheasant being the specialities to look for. Beyond the waterfall one can climb to the mountain summit and look for Siamese Partridge.

Northbound Trail : This trail crosses the river and heads northwards through the forest. I haven't explored it fully, so can't say how far it continues for; I followed it for about 1 kilometre and saw a flock of Pompadour Pigeons feeding on a fruiting tree.
.
Facilities

The facilities here are surprisingly satisfactory with several bungalows that can be rented and a pleasant campsite. If arriving outside of a weekend or public holiday it is possible to arrange a bungalow on arrival and there are several quite cosy looking ones to choose from at a very reasonable price. However, I have always camped here, and to my knowledge it is essential to bring ones' own tent, but the campsite is conveniently placed and even during busy periods is not too crowded.

A number of foodstalls at HQ have a good range of cheap and tasty Thai food and a good selection of drinks. Fresh fruit is sold here, at least during busy periods, and there is a shop/restaurant at the top of the access road to the Sanctuary that sells a range of supplies for self-catering.



Simple Accommodation
(Photo by Albert Noorlander)


There are also a number of aviaries around the HQ region containing native species including the local lewisi subspecies of Silver Pheasant .
.