Baer's Pochard at Chiang Saen
On 11th December 2009 and again on 21st December 2009 I saw a pair of Baer's Pochard at Chiang Saen lake. On both occasions the birds were associating with other diving ducks (mostly Ferruginous Pochard) on the shore opposite the HQ. Observation was best in the early morning before disturbance along the road drove the birds to the middle of the lake. 1 male was present on both occasions and easy to id. On the 21st 1 female was confirmed with 1 more probable and 2 more possible but they swam into poor light before I was able to decide if they were Baer's Pochard or Ferruginous Pochard/Tufted Duck hybrids.
Mick Davies & Dowroong Danlamajak have been reporting at least one female Baer's Pochard since late November.
This species' population has crashed and is becoming increasingly scarce. For birders a visit to Chiang Saen lake this year is a good opportunity to see this species whilst they still can.
Nick Upton, 24th December 2009.
About the Adverts
Baer's Pochard at Bueng Boraphet
On the 20th February a pair of Baer's Pochard were observed at Bueng Boraphet Non-hunting area by Nick Upton, Srsasri Phiromyothee, Daniel Lopez Velasco, Joan Ferré, Clemente Álvarez, Jorge Valella and Guillermo Lázaro. The birds had been seen previously on the 19th February at least and we were led straight to the birds by the excellent Mr Phanom whilst on a boat trip with him.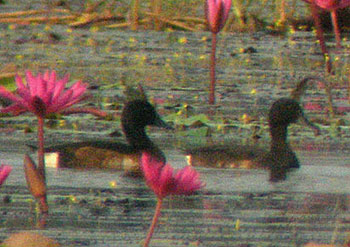 A pair of Baer's Pochard at Bueng Boraphet, 20th February 2009
(Photo by Daniel Lopez Velasco)
Mr Phanom informed us that this was the first record of Baer's Pochard at Bueng Boraphet for more than 10 years so we were very lucky indeed to see them. Perhaps others may be lucky enough to find this bird at the same location; considering that this is now regarded as an endangered species any sightings of Baer's Pochard would be highly interesting.
Nick Upton, 11th March 2009
About the Adverts
Baer's Pochard at Chiang Saen into February
For those birders searching for the increasingly scarce Baer's Pochard, it is interesting to note that a male was observed at Chiang Saen on the 6th February 2008, slightly later than perhaps I may have previously indicated.
Nick Upton, 29th February 2008, from information on Mick Davies' & Dowroong Danlamajak's Yonok Wetlands Project website.
Baer's Pochard Arrive at Chiang Saen
Having received a number of enquiries about Baer's Pochard I was pleased to hear of a sighting of 2 birds at Nong Bong Khai near Chiang Saen, in Chiang Rai province - probably the only reliable site for the species in Thailand.
These 2 Baer's Pochard were in the company of 2 other diving ducks which were sleeping but identified as Ferruginous Ducks, and were reported to have been present since the 4th November.
This observation is earlier than most other previous records of Baer's Pochard in Thailand, but it may be that lack of observation has meant under-recording, although it is known that the species is in severe decline: .Birdlife International.
Nick Upton, 7th November 2007, from information on Mick Davies' Yonok Wetlands Project website.
A few Baer's Pochard sighted
Finally, a few Baer's Pochard have been sighted this winter. Predictably they turned up at Nong Bong Khai near Chiang Saen, in Chiang Rai province, with 3 seen on the 3rd of January and a single male on the 21st January, both times in the company of Common Pochard and Ferruginous Ducks. Although this site seems to remain reliable for wintering birds it illustrates the continuing trend for ever decreasing numbers to be seen.
Birdlife International rate the species as Vulnerable, although this must surely be up for review with a "small, rapidly declining population".
Get to Nong Bong Khai next January and see it while you can!
Wetlands International have just published their Waterbirds Population Estimates - Fourth Edition, available for £25. Buying this book will support the work of Wetlands International and will, perhaps, in some small way help in the conservation of species such as Baer's Pochard. Visit their website for the full details.
Nick Upton, 1st February 2007, from information on BCST, Birdlife International and Wetlands International websites.
Baer's Pochard Decline?
P. Round (in litt. 2005) noted that "About 15 years ago, one could rely on there being 100 or more Baer's Pochards in Bung Boraphet, Nakhon Sawan Province, Central Thailand, at any point in the winter (and our largest count was, I seem to remember, 426 at Bung Boraphet with another 170 at a second site in January 1988). I'd be hard pushed to find any Thai sightings of more than 20 birds from any Thai site in the last decade (and numbers per site are usually much lower, now: 4 or 5 at the most").
Information from Birdlife International's Threatened Asian Birds, Bird Forum.
Click to read the Birdlife International factsheet on Baer's Pochard Aythya baeri.
Bare future for rare duck?
Ornithologists are concerned about a possible sharp decline in numbers of the globally threatened Baer's Pochard Aythya baeri. This was the alarming speculation from recent discussions on the OrientalBirding email newsgroup. The topic was raised after the 2005 WWF survey of the Yangtze River basin, China, recorded just eight Baer's Pochards among the total 636,000 waterbirds counted.
Reports of Baer's Pochard in Thailand have plummeted, from several hundred birds regularly wintering in the late 1980s, to just a handful in recent years. In Bangladesh, where the two major wintering sites, Hakaluki Haor and Tangua Haor, held about 700 and 1,700 birds as recently as 1992 and 1993 respectively, none have been seen by visiting birdwatchers at the former site in the last two winters.
In South Korea the species has always been uncommon and is apparently getting scarcer – so much so that it is now recorded barely annually.
The species is also missing from its traditional passage sites. Baer's Pochard was regularly recorded by birdwatchers on passage in China's Hebei and Beijing provinces, but none were reported there in 2003.

Female Baer's Pochard
(Photo by Martin Hale)
"As one of Asia's most threatened wildfowl species, the lack of recent reports is worrying. Surveys are now urgently needed at former and potential Baer's Pochard sites to investigate whether this is a real decline." Mike Crosby, BirdLife's Asia Research & Data Manager
However, the species is known to fluctuate greatly in numbers according to water level changes, and so its absence (or reduced numbers at former sites) might mean that birds have simply moved to other locations, making more surveys a priority.
Current estimates put the world population of this Vulnerable species at fewer than 20,000 individuals. It is possible that this figure could even be lower – with less than 10,000 mature Baer's Pochard remaining.
Article reproduced with the kind permission of Birdlife International.
Click to read the Birdlife International factsheet on Baer's Pochard Aythya baeri.
Related pages:
Chiang S
aen , Chiang Saen Lake Checklist
About the Adverts
Technorati tags: birds, birding, conservation, wildlife, nature