Chiang Saen
(Updated 13/09/15)
Introduction
Chiang Saen is a small town, in Chiang Rai province, next to the Mekong river close to the famous "Golden Triangle" border area with Myanmar and Laos. A mosaic of wetland habitats including rice fields, fish ponds, overgrown wet areas, pools, open water and the Mekong river make this area an excellent location for a wide variety of resident and migratory species. The geographical location of Chiang Saen makes it a prime site for finding birds that are rare in Thailand and almost every year new species are added to the Thai list from sites around the town.

The nearby non-hunting area, a lake known as Nong Bong Kai, is one of the few sites in Thailand that receives annual congregations of wildfowl in the "winter" and a spectacular Harrier roost is one of the great bird spectacles of the country. The wide nature of the sites here make a telescope an essential piece of birding equipment but many of the areas are accessible by car (4-wheel drive makes life easier but not essential) so that birding can be done at a nice pace and makes it a very suitable place for disabled birders to visit.

Brown-cheeked (Eastern Water) Rail
(Photo by Nick Upton)
Few birders spend a significant amount of time here but there is a lot of potential to find many species and, given the northerly location, there is a real possibility of finding a new addition to the Thai list. Given this and the relaxing atmosphere of the region Chiang Saen is a really good place to spend some time recovering from a hectic birding schedule and at the same time continuing to find more exciting species.

Unfortunately, like many places in Thailand, there are problems with both bird persecution and encroachment in this area and widespread habitat destruction along the Mekong has rendered it an ecological disaster zone..
Birding Highlights

Ruddy Shelduck
(Photo by Suppalak Klabdee)
Winter wildfowl is the main attraction for many birders to take the trip to Chiang Saen, where these birds often congregate in flocks of thousands, mainly on the lake. Ruddy Shelduck are sometimes found on both the lake and the Mekong river and Spot-billed Duck is often easily seen on the river from Chiang Saen town itself. Many Eurasian species of duck can be found here with Ferruginous Duck, Baer's Pochard, Baikal Teal and Falcated Duck being among the most interesting.

Wildfowl is not the only attraction though, with birds such as Plain Martin, Long-billed Plover, Small Pratincole and River Lapwing occurring here and over the years many birders have searched for Jerdon's Bushchat in long grass in this region with varying success.
One of the most exciting aspects of birding in the Chiang Saen region is the possibility of finding a "first" for Thailand; over the years Bar-headed Goose, Greylag Goose, Common Crane and, most recently, Grass Owl have been added to the national list from this location. With so many highlights this region probably deserves three or four days to exploit its full potential, a length of time which few birders allocate.
A checklist of the birds of this location can be found here - Chiang Saen
Bird Watching Trips:
If you need help organizing a bird watching trip to Thailand, take a look at the suggested itineraries for ideas on creating a tailor-made trip and contact me for advice: Thailand bird tours.
Travel Information
Use the interactive map below to plan your route to Chiang Saen. The blue line shows the route from Chiang Rai (Blue Pin)
Getting to Chiang Saen is a simple affair being right on the tourist trail. Buses leave Chiang Rai bus station quite regularly and the journey takes an hour or so. There is also transport to and from the nearby towns of Chiang Kong and Mae Sai where visas can be renewed with a brief trip over the border to Myanmar.

Getting to Chiang Rai is easy too with all the nearby provincial capitals having direct bus services. If coming from Bangkok, the Mor Chit bus station in the north of the city is the one required to get here; this journey will take about 12 hours!

An alternative and rather interesting method of getting to Chiang Rai is by boat from TaTorn, taking about 2.5 hours. Boats leave from TaTorn (it's easy to see them) once or twice a day and tickets can be purchased at the small pier. The boats are quite small and uncomfortable; sitting squashed up in them for almost 3 hours is not that pleasant and if you are not the most supple person around a trip by bus may be a better idea, however the scenery is nicer by boat. It is necessary to take a ride into Chiang Rai from where the boat stops, but there are songtaew drivers there ready to take you so this is easy to do.

Far better, of course, is to drive a private vehicle which will allow birders to explore the Chiang Saen lake, Mekong river and surroundings at their leisure. The lake is accessed by driving along highway 1016 back towards Chiang Rai for about 5 kilometres. turn left at Km 27 and continue along a small road for a further 2 Km until reaching the lake. A smaller lake, Nong Klab, can be reached by turning left off highway 1016 after only about 2.5 Km and continuing for 1.5 Km along a smaller road.
Finding Birds
Much is made of the Mekong River and Chiang Saen Lake but these are both part of a large area of wetlands, most of which is under some form of agriculture but still home to a good selection of birds. Birders will always concentrate on the two large waterbodies, however, and these always produce some excellent species.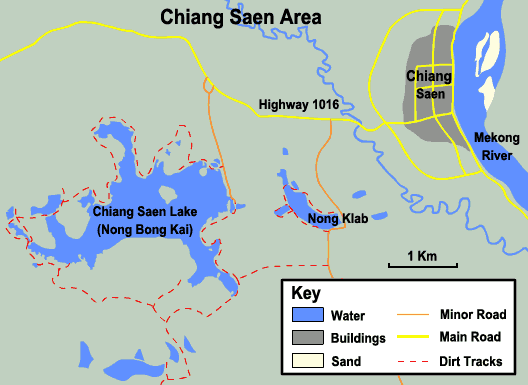 Mekong River : The "Mighty" Mekong is in a terrible state with Chinese control of water flow through their upstream dams creating artificially high water levels at critical times of the year, denying birds valuable feeding and breeding grounds. Having said that the geographical location of the river means that it still worth a look and if the water level is low enough to reveal some sand and gravel bars then a number of interesting species can be found. A couple of sandbars can be observed in the "winter" months from Chiang Saen town itself and I have seen Spot-billed Duck and Pallas's Gull whilst eating dinner here. There are good places to observe the river further north, particularly at the "Rim Khong" restaurant where Plain Martin and River Lapwing are often seen - just park at the restaurant and walk to the back where great views over the river are available; the staff are used to birdwatchers, so just smile and make your way towards the river. South of Chiang Saen too, towards Chiang Kong, there are places to overlook the Mekong and along here Small Pratincole, River Lapwing, Greenshank and Ruddy Shelduck are often seen. Spending time along the river in January and February could turn up almost anything.

Small Pratincole

Silver-eared Mesia

Scarlet-faced Liocichla

Temminck's Stint
(Photos by Nick Upton)
Chiang Saen Lake (Nong Bong Kai) : This large lake is often the hiding place of large numbers of waterfowl. Most of these are Lesser Whistling-duck but there are also usually Garganey and Pintail with Ferruginous Pochard, Baer's Pochard, Shoveler, Tufted Duck and sometimes Gadwall showing up in small numbers. Lots of other wildfowl are seen here including Common Shelduck, Mandarin Duck, Baikal Teal and Falcated Duck, but never in large numbers and in some years very few are seen.
This is also a good place to see species associated with the water's edge and a few marshy inlets always seem to hold Grey-headed Lapwing and plenty of Snipe, both Common and Pintail. It would be interesting to study the Snipe here to see if Swinhoe's Snipe could be detected - it should occur according to many authors, but is almost never recorded in Thailand.
The grassland and woodland around the lake can also be productive with Fulvous-breasted Woodpecker occurring here (contrary to the distribution map in Robson's Birds of Thailand), numerous Acrocephalus Warblers and Siberian Rubythroat all present. This also seems to be a very good place to find Eurasian Wryneck - at least I always seem to see a few when I'm at Chiang Saen. Purple Swamphen is numerous here and this is a regular place for a wintering Great Crested Grebe and a couple of Water Rails, both of which are very rarely seen in Thailand.
Nong Klab : This does not seem to be any place to see waterbirds any more as the sides have been steepened. However, the surrounding paddies can hold a few interesting species.
Yonok Wetlands : This area of wetlands also has patches of grassland and woodland making it an excellent place to find a large number of species. Grass Owl nests in this area and Thailand's largest harrier roost, with over 200 birds (Eastern Marsh Harrier & Pied Harrier), is located here. This is also the site of the Yonok Wetlands Project, an excellent community conservation initiative founded by Mick Davies and Dowroong Danlammajak: support this project by visiting and paying for Mick and Dowroong's guiding services.
Facilities

At Chiang Saen Lake there are 2 nice-looking resorts to stay at, on the northern bank of the lake, close to headquarters: Chiang Saen Lake Hills resort and Viang Yonok Hotel. Ian Smith, the owner of Viang Yonok has mentioned to me that he is able to give birdwatchers a discount and he is a supporter of the Yonok Wetlands Project so it is worth getting in contact with him. It is probably also possible to organise a boat trip on to the lake with one of the park rangers, although I have not done this and know of no-one that has done, but presumably they have a boat so it might be worth a try.

Chiang Saen itself has a growing number of small hotels; the Pak Ping Rim Kong Bed & Breakfast is very pleasant. Along the Mekong river there are some resorts which look quite nice and have views over the river, but it is worth having dinner in Chiang Saen at the river front where there are food stalls serving great barbecued food: fish, chicken, pork, steak and som tam with sticky rice for stupidly low prices. It's a nice place to sit in the evening eating and drinking. There are a number of other decent eating places in Chiang Saen and it is possible to buy the Bangkok Post Newspaper here which is in English.

Pak Ping Rim Kong
(Photo by Nick Upton)
The small town of Chiang Kong is on the backpacker trail so presumably there is some accommodation there, although I am unable to say from personal experience as I have never been there. However, as some of the best birdwatching on the Mekong is along the Chiang Saen - Chiang Kong road this could also be a good place to stay.
Chiang Rai is close enough to be a realistic option for accommodation and then drive to the lake and then along the Mekong: Chiang Rai Hotel Reservations.
Chiang Saen Lake is not a National Park and there is no fee to go birdwatching there.
Some Useful Books
Other Related Pages
Chiang Saen Bird Checklist
Birdwatching Tours
Other Northern Thailand Birding Locations
Enthusiastic Monks & Visiting Experts at Yonok Wetlands
Sign-making and binocular presentation at Yonok Wetlands
Leg-flagged Shorebirds in the Inner Gulf of Thailand
Volunteers required at Yonok Wetlands
Yonok Wetlands Project near Chiang Saen
Is Chiang Saen Lake Shrinking?
Air Pollution in Chiang Mai
Bird Persecution
Baer's Pochard
Photo Galleries
Select the thumbnail photos to see larger images.
Birdwatching Trips:
Chiang Saen is an excellent place to add to any Northern Thailand birding tour itineraries between the months of November to April and there are a high number of wetland skulkers and waterfowl that can be found which are unlikely to be seen at any other location.

Look at some suggested itineraries, Thailand bird tours, or contact me for more information: nickupton@thaibirding.com.
Trip Reports
Related Blog Entries

About Google adverts
I Hope You Enjoyed This Page
If you found the information you were looking for here please let others know by liking this page on Facebook and Tweeting it.
Donations
If you found this page useful, please consider making a donation.