Yonok Wetlands Project near Chiang Saen
Introduction
| | | |
| --- | --- | --- |
| Yonok Wetlands (Photo by Mick Davies) | | It has long been recognized that the Chiang Saen region of Chiang Rai province in Northern Thailand is important for wetland bird species with the River Mekong consistently hosting scarce wintering species and the Non-hunting Area of Nong Bong Khai (Chiang Saen lake) being one of the most important sites in Thailand for wintering wildfowl including small numbers of Baer's Pochard, currently listed as vulnerable by Birdlife International. However, over the last year a number of exciting ornithological observations, including a visiting River Tern, nesting Grass Owls and the largest roost of Harriers in Thailand, have been reported from another area of wetlands to the southwest of Nong Bong Khai Non-hunting Area; this area has been given the name of Yonok Wetlands. |
Yonok Wetlands is an area of freshwater marshes, bog, drainage channels, reedbeds and woodland along a river valley bisected by a causeway, which effectively divides the wetlands into a northern and southern section. Preliminary surveys based on 5 years of observations suggest that it is an important area for many wetland species including egrets and bitterns, crakes and rails, waders and warblers. Unfortunately the area is currently not afforded any level of protection from the Non-hunting Area and over the years the abundance of birds has been much reduced, due to drainage and hunting. These problems have been highlighted by the discovery, by Dowroong Danlamajak and Mick Davies, of widespread mist netting and shooting (including the shooting of nesting Grass Owls) by local villagers and occupants of buffalo camps as well as the highly destructive practice of "blitzing" by outsiders, whereby organized gangs spend a day or two trapping as high a proportion of the fish stocks as possible before leaving with their haul.


Yonok Wetlands
(Photo by Mick Davies)
Conservation Efforts
Fortunately for the birds, and other wildlife of Yonok Wetlands, a number of conservation initiatives have already begun, particularly in the northern section. Due to the good relations that have been established with local village leaders and monks, hunting has all but stopped in this northern sector and efforts have been made to encourage the cessation of hunting in the southern sector also. Although local Non-hunting officials have actively supported the efforts to relieve hunting pressure on the birds of Yonok Wetlands, the main thrust of achieving this objective has been supplied by the local awareness campaign instigated by Dowroong and Mick and enthusiastically supported by the abbotts of three local temples: Wat Yonok, Wat Pa Mak No and a new, as yet, unnamed temple. Indeed, these temples have long protected the wildlife within their grounds and it is now the wish of the monks within one of these temples to extend their protective influence across the whole of the wetland. Indeed, by reasserting the precepts of Buddhism throughout the local community, all interested parties hope to nurture a sense of stewardship of Yonok Wetlands and this has resulted in the formation of the "Friends of Yonok Wetlands".

Children bringing trees for planting at Wat Pa Mak No
(Photo by Mick Davies)

The local community have entered very enthusiastically into this project and have benefited from the English lessons provided by Dowroong and Mick. These lessons have been provided on a voluntary basis and have been attended by as many as 150 people, including many of the local monks and children of people formerly involved in hunting the wildlife that they are now actively protecting. These English lessons have focused on basic communication and have incorporated elements on conservation and Buddhist teachings. So far sessions have included poster construction to further publicize the project, bird art and tree planting within the grounds of Wat Pa Mak No, when as many as 70 children each planted a native tree species.

An important step that has been taken is the establishment of a relationship with the occupants of buffalo herding camps within the wetland areas. These people have formerly been responsible for much of the hunting and have taken positively to being encouraged to stop hunting birds in the wetlands.
The Yonok Wetland project has most recently been given a massive boost with the arrival of one of Northern Thailand's most followed monks, Khru Ba Boun Chum, who has been given land adjacent to the wetlands for the establishment of a meditation centre. On Sunday 22nd July a ceremony was held at this site and many high ranking officials attended and it is hoped that these connections will strengthen the project's chances of success. An extract from John Robert's Golden Triangle Asian Elephant Foundation blog outlines how influential the arrival of Khru Ba Boun Chum may be to the Yonok Wetland Project:
"When Khru Ba Boun Chum speaks people listen, yesterday he visited the site of his new meditation centre, feted by the local Nai Amphur (Mayor) and the General with control of Chiang Rai, the TV cameras were there, as were at least 1,000 villagers eager to be seen to plant a tree."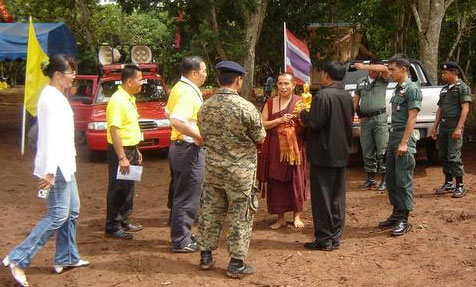 Dignitaries meeting Khru Ba Boun Chum
(Photo from Golden Triangle Asian Elephant Foundation)
Objectives
Although a number of successes have already been achieved and the potential for a long-term conservation project in this area has been highlighted, it is recognized that there is still a huge amount of work to do before this initiative can be considered as a viable conservation project. To this end a number of attainable objectives have been loosely outlined:
1. To encourage tourists to visit the area so that the local economy receives a boost from the commitment already shown by villagers and to provide some funding for further conservation work. So far no target has been set for the number of visitors.

2. To stop all hunting in the area and to encourage locals and visitors to remain committed to this aim.

3. To obtain funding from interested parties in order to continue and extend the teaching program and to develop the environmental education aspect of this program in order to encourage a culture of stewardship.


Yonok Wetlands poster made by local children
(Photo by Mick Davies)
Support and Funding
As well as the villagers around Yonok Wetlands and the leaders of the temples, a number of other people have lent their support to this project:
Khun May and Khun Boonpop of the nearby Non-hunting Area have pledged their support for preventing hunting and encroachment onto the wetlands.
Dr Mong of the Lanna Bird Group has pledged his group's support to furthering the aims of this project and has already made a very useful monetary donation.
John Roberts of Golden Triangle Asian Elephant Foundation and based at Anantara Resort Golden Triangle has supported this initiative from the outset and will attempt to procure a grant from an undisclosed charitable trust.
I will use thaibirding.com to publicize the Yonok Wetlands project in order to encourage birdwatchers to visit and pay for guiding services.
Birdwatchers visiting Thailand can support this project by visiting the area and paying for guiding services which will help finance teaching and wildlife surveys.
Dowroong and Mick believe that what the villagers and monks need, in order to ensure the long-term success of the Yonok Wetlands project, is paying visitors as well as charitable grants/donations. It has been recognized that ecotourism can be very important in safeguarding wetland habitats and providing sustainable development for local communities: Wetlands, poverty reduction and sustainable tourism development.
Birds of Yonok Wetlands

Male Pied Harrier
(Photo by John & Jemi Holmes)

Visitors to Yonok Wetlands can easily spend a day watching typical wetland birds with many species of crakes and rails, egrets, herons, bitterns, waders and wildfowl present. This location's geographic position means that rare or even new species to Thailand are likely to be found, a fact that is highlighted by the recent discovery of nesting Gras Owls and the presence of species such as Swinhoe's Snipe and Comb Duck. For raptor enthusiasts, Yonok Wetlands holds the largest harrier roost in the country with over 200 birds in mid winter. Both Eastern Marsh Harrier and Pied Harrier are present and enthusiasts may even find Western Marsh or Hen Harriers, although these species have not yet been confirmed. Other species of raptor that have been recorded at this location include Oriental Honey-buzzard, Crested Goshawk, Northern Goshawk and Grey-faced Buzzard amongst many others.

The open aspect and abundance of birds at Yonok Wetalnds means that an excellent day's birdwatching is available for visitors to the area.
Further Information
Birdwatchers who are interested in knowing more about this project or wishing to visit Yonok Wetlands can either contact me nickupton@thaibirding.com or Mick Davies dowroongd@yahoo.com
About Mick Davies and Dowroong Damlammajak

Dowroong Danlammajak originates from the Chiang Saen region of Chiang Rai; she is an enthusiastic birdwatcher and a good all-round naturalist. Dowroong is also a committed Buddhist, with a high level of knowledge of the religion and she is very highly regarded by the local monks: she has forged invaluable links with highly influential local temples.


Mick Davies has over 40 years birdwatching experience including 5 years in the Chiang Saen region. He has traveled widely in Southeast Asia and contributed numerous ornithological records to national recorders in both Thailand and England.
Update
Unfortunately, Mick and Dowroong failed to get funding from an Indepedant Conservation Fund at this stage, making support and donations from individuals even more important. However, as committed conservationists they are continuing with the Yonok Wetlands Project and continue to receive valuable support from the Lanna Bird Group, local monks and all the previously mentioned interested parties. Furthermore, another useful local ally has become involved: Ian & Vassana Smith of Viang Yonok Hotel who have already made a monetary donation and have pledged to support the work of Mick and Dowroong.
Such has been the success of the Yonok Wetlands Project so far, volunteers are now required to help with teaching the local children and to survey the area in terms of avifauna and other faunistic groups as well as flora.
Useful Reading:



Ecotourism: Principles, Practice and Policies for Sustainability


Wetland Ecology: Principles and Conservation (Cambridge Studies in Ecology)
Related Pages:
Baer's Pochard
Chiang Saen
Chiang Saen Checklist (Mekong River)
Chiang Saen Checklist (Nong Bong Khai)
Enthusiastic Monks & Visiting Experts at Yonok Wetlands
Headquarters for Yonok Wetlands
Is Chiang Saen Lake shrinking?
Latest Additions to Thai Checklist
Massive Increase in Bird Trapping at Chiang Saen
Northern Thailand Birdwatching Locations
Sign-making and binocular presentation at Yonok Wetlands
Volunteers required at Yonok Wetlands