Doi Inthanon National Park
(Updated 10/08/13)
Introduction
Doi Inthanon National Park, at 482 square kilometres, protects four major watersheds and, of course, Thailand's highest mountain, Doi Inthanon, which has its summit 2565 metres (8415 feet) above sea level.
This National Park, in Chiang Mai province, is unique in Thailand as it is 300 metres higher than any other mountain in the country which allows it to support a tract of upper montane forest and Thailand's only sphagnum bog (albeit a very small one).

Although there is quite extensive deforestation in places, due to a sizeable hilltribe population, there remain large areas of quality habitat which is home to a very high number of species. The long road to the summit provides many places to stop and access the forest which is magnificent in places; particularly the moss-clad forest at higher altitudes. There are a number of accommodation options inside and outside the park allowing bird watchers to spend lots of time on the trails to look for the many ornithological treats that await. Birds seem to be in greater densities here than in many other locations in Thailand, meaning that this is an ideal place to see a large number of species in a short space of time and one of the most memorable locations for bird watching in Thailand.

View on Doi Inthanon
(Photo by Nick Upton)
About Google adverts
Birding Highlights
Doi Inthanon has so many birding highlights it is almost impossible to mention them all without giving the entire checklist for the National Park. This mountain spans a number of habitats and consequently contains the birds associated with them. The summit area, which is higher than any other in Thailand, provides some of the most memorable birdwatching on the mountain, perhaps even the whole country; Chestnut-tailed Minla, Green-tailed Sunbird, Rufous-winged Fulvetta and Chestnut-crowned Laughingthrush are very abundant in this area and both Speckled and Ashy Woodpigeon are frequently seen.

A little further down the mountain Green and Purple Cochoas steal the show, with many species of Flycatchers to be seen from the park HQ to the summit. Brown-throated Treecreepers are easily found as are many colourful birds such as Maroon Oriole and Minivets.

Chestnut-tailed Minla
(Photograph by Suppalak Klabdee)

Plumbeous Water Redstart
(Photo by Suppalak Klabdee)
In the rivers near the waterfalls Slaty-backed Forktail and Plumbeous Water Redstart can be seen foraging amongst the rocks and White-capped Water Redstart (River Chat) is a must see bird which no illustration does justice to; to me this is one of the most beautiful birds to be found in Thailand.

The drier forest contains birds seldom seen anywhere else. Black-headed Woodpecker, Chestnut-bellied Nuthatch and White-rumped Falcon are the most sought after birds here and Black-backed Forktail is present in the streams.

The sheer size of Doi Inthanon means that a high species total can be accumulated on any visit, and by staying for 3 or 4 days and birding at a variety of altitudes a large number of exciting birds can be seen.
A checklist of the birds for this location can be found here - Doi Inthanon National Park
Bird Watching Trips:
If you need help organizing a bird watching trip to Thailand, take a look at the suggested itineraries for ideas on creating a tailor-made trip and contact me for advice: Thailand bird tours.
Travel Information
Getting to Doi Inthanon is not difficult; take a bus or songtaew from Chiang Mai to Chom Thong (pronounced Jorm Torng). If you arrive here before 10 am you can get on a regular songtaew up the mountain. If arriving later than 10 am you should charter a songtaew to the park HQ at Km 31, which should cost 300-400 baht. Considering the distance this isn't a bad price.

If driving your own vehicle the journey is a simple one and getting to HQ will take about 1.5 hours. From Chiang Mai get on the road which heads out to the airport and continue all the way to Chom Thong from which Doi Inthanon is clearly signposted. Although it is easy to get to Doi Inthanon without private transport it is highly advisable to hire a car to fully enjoy the park. The birding hotspots are a long distance apart and without transport lots of walking, hitch-hiking or flagging down irregular songtaews will be required. The road up Doi Inthanon is well-maintained and a four-wheel drive vehicle is not essential. Driving to the summit from Chom Thong takes around 45 minutes and vehicles can be hired in Chiang Mai for as little as 800 baht a day with just a passport as deposit.
Finding Birds
There are a large number of locations one can stop and observe birds on Doi Inthanon, and if so inclined there is the opportunity to find new and "unexplored" trails. However, here are some of the established birding locations;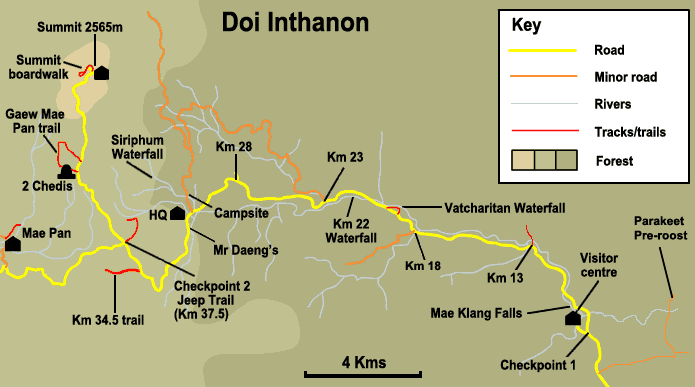 Summit area : As soon as one arrives at the summit car park the birding starts in this area; large numbers of leaf warblers, particularly Ashy-throated Warbler, are always present in the vegetation around here and Chestnut-crowned Laughingthrush, Chestnut-tailed Minla, Rufous-winged Fulvetta and Green-tailed Sunbirds are always around to add a splash of colour. All these species are reliable in the wet season although most are easier in the dry.
There are lots of great photos around of various thrushes from within the grounds of the radar station, however, the guards will not allow foreigners into this area which is disappointing; apparently we are all spies! Doug Judell once tried to stroll in with a party of Thai birdwatchers; he almost made it but a guard chased him and he was turned back. If anyone manages to access this area maybe they could contact me and tell me their modus operandi.

The boardwalk is wonderful and seems like something from Lord of the Rings; White-browed Shortwing, Pygmy Wren Babbler and Rufous-throated Partridge are ever present but not always easily seen; listen for their calls. Lots of other great birds often occur in this area including thrushes, Ashy Woodpigeon and Yellow-browed Tit so it could be worth spending a whole morning on this short trail.


Pygmy Wren Babbler
(Photo by Suppalak Klabdee)m
Gaew Mae Pan trail : I have only ever walked part of this trail, but it appears to have potential as it winds through some moist and interesting forest. This trail is high enough up the mountain for most of the summit specialities to be present and a number of Flycatchers were present on the only occasion I have been on the trail, with Vivid Niltava the most notable. However, it seems that it is now impossible to walk this trail without hiring a guide for 200 baht. Apparently it is impossible to dodge these guides and as this trail is not one of the best on the mountain it is wise to avoid it. It seems a massive imposition that having paid 400 baht to get into the park one must pay even more just to walk on this trail!
2 Chedis : These two modern chedis are in an open area which can provide some great views over the surrounding countryside on a clear day. Green-tailed Sunbird is common here, feeding on nectar in the ornamental gardens and often one can get very close to this species here. Buff-throated Warbler often puts in an appearance in the scrubby areas behind the left-hand chedi as one enters the area, and is one of the most attractive Phylloscopus warblers in my opinion.
A damp patch of forest behind the toilets here seems very productive for flycatchers, particuclarly Niltavas and I've also seen Snowy-browed and White-gorgetted Flycatchers here. Hanging around the toilets with a pair of binoculars can draw a few stares however. A fee of 20 baht must be paid to enter this area which I'd like to think goes towards the upkeep of the chedis but is much more likely to fill the pockets of high ranking park officials.
Checkpoint 2/Jeep Trail (Km 37.5) : This is one of the best-known birding areas on Doi Inthanon so don't be surprised to meet other birders here. Simply birding along the road is often rewarding, particularly with Spectacled Barwing being reliable; other birds often seen from the road include Small Niltava, Short-billed Minivet and Eyebrowed Thrush. The jeep track itself is easily missed as its entrance is quite overgrown: it is on the right immediately after a small building just after the checkpoint. The excellent forest here is regarded as a reliable site for Green and Purple Cochoas. Do not be fooled into thinking that these are easy species to see though; Green Cochoa is best looked for from February to July and Purple Cochoa isn't often seen outside of April. Cochoas apart there can be so many good birds on this trail that one could spend the whole day on it when bird activity is high, although sometimes there can be frustratingly few birds present. Even on quiet days views of Brown-throated Treecreeper, Maroon Oriole, Little Pied Flycatcher and Large Niltava (listen out for its "Doh, Ray, Me" call) should be possible. Most people walk this trail until it emerges into an open valley, but it seems to stretch way beyond for the adventurous.


Green Cochoa
(Photo by Suppalak Klabdee)
Km 34.5 Trail : This trail consists of a jeep track which splits into 2 branches after about 1 kilometre. It passes through some useful forest, with a few damp gulleys to explore in which I have seen White-tailed Robin, Rufous-bellied Niltava, White-gorgetted Flycatcher, White-necked Laughingthrush and Black-eared Shrike Babbler, before emerging into secondary vegetation where birds such as Rusty-cheeked Scimitar Babbler, Silver-eared Mesia and Hill Prinia can be found; the bamboo in this area is a good place to spot Black-throated Parrotbill. This should be enough to whet your appetite and encourage you to explore this trail which certainly receives fewer birders than the jeep trail at Km 37.5. I have been told that this trail is also good for spotlighting Mountain Scops Owl; it's bell-like call will be easily heard to help you find it!
Mr Daeng's : Mr Daeng has a beautiful collection of bird photographs and an informative birding logbook. However, the real reason to stop here is for the birds that turn up at the stakeout behind his restaurant; Dark-sided Thrush, Lesser Shortwing and Siberian Blue Robin are often seen and Hill Blue Flycatcher and even Bronze-winged Jacana turn up! There is little to see in the wet season though. Birds such as Little Spiderhunter, Grey-breasted Prinia, Black-throated Sunbird and Olive-backed Sunbird can be found in the garden.
Campsite : The target species for most people here is Black-tailed Crake which seems to put in an appearance an hour or two before dark. Sit on the slope near the marshy patch here to give yourself a view of as many open patches between the long grass as possible so as to spot it when it crosses these areas. If you are lucky enough to get a clear view this bird is very handsome indeed. Unfortunately I have been told that this small marsh has become very overgrown and a tape is a necessity to lure the crake into a viewable situation. Mountain Scops Owl calls from the campsite at night so spotlighting here might be rewarding.
A short walk up the road through some farmland brings one to a small orchard where Daurian Redstart has occasionally turned up. Many other open-country birds can be seen along here, including Grey Bushchat, Siberian Stonechat, Pied Bushchat and Green Bee-eater.
Siriphum Waterfall : This waterfall can be accessed by following the road to the campsite and turning left when the school is to one's right. Follow the signs to the base of the falls. This is a good place for River Chat and Plumbeous Redstart as are other waterfalls on Doi Inthanon; this one is much less often visited by birders however. There is a trail which follows an irrigiation channel which can produce some nice birds, but beware of the slippery flagstones. I am told that this is a good stake-out for White-headed Bulbul too; be careful to get a good look at them and not to mistake stresemanni or leucothorax subspecies of Black Bulbul for White-headed as they can be quite common in the north.
Km 22 (Siritan) Waterfall : This rather beautiful and large waterfall has a small car park and a trail leading to its viewing platform. This offers a great view of the water pouring over the lip and often provides sightings of River Chat. Grey Wagtail and Blue Whistling Thrush should both be seen and by walking down to the water from the platform Plumbeous Redstarts can be found. When the water is low it is possible to make ones way downstream by climbing along the rocks and this provides an opportunity to see other forest birds.

White-capped Water Redstart
(River Chat)
(Photo by Suppalak Klabdee)

Vatcharitan Waterfall : This far down the mountain the forest is very different to that at the summit, appearing much drier with the temperature far higher. The waterfall itself is quite a spectacle, particularly after the wet season. Blue Whistling Thrush is always present here with at least two subspecies to be seen in the "winter" months; Grey Wagtail is often to be seen foraging amongst the torrent.

The real treat, though, can usually be seen a little downstream of the falls, where a set of steps leads down to the stream, including some shady pools. If one waits here a while Slaty-backed Forktail is usually the first bird to appear and isn't too shy. Plumbeous Water Redstart can also be encountered here but can be very quiet and often sticks to the shadows, so look closely. The star of the show here is White-capped Water Redstart or River Chat, which although by no means is guaranteed here, does often show up if there are not too many people about. It is worth spending an early morning or late afternoon here to see it undisturbed as its colours are wonderfully vivid: this is perhaps my favourite bird at Doi Inthanon. Note: Slaty-backed Forktail is still easy to find here in the wet season but River Chat and Plumbeous Redstart are absent.
m
Km 18: A bridge crosses a stream here and the waterfall viewable to the left as one heads uphill is a reliable spot for Slaty-backed Forktail and Blue Whistling Thrush.
Km 13 : A small parking area leads to a bridge over a stream and then along a trail through the dry forest. This has been a favourite place to look for Rufous-winged Buzzard and White-rumped Falcon over the years although they are by no means assured. Black-headed Woodpecker is an extremely attractive bird which can be found in this region and species such as Chestnut-bellied Nuthatch, Large Cuckooshrike and Golden-fronted Leafbird are likely. Black-backed Forktail inhabits the stream at the Km 13 parking area and can be seen fairly easily just after dawn. This trail can be punishingly hot during the day and totally devoid of birds; I have had the best luck in the early morning and an hour before dusk, after 5.30pm.
Mae Klang Falls : This area can be worth investigating early in the morning before the heat becomes too much or too many people turn up. Greater Racket-tailed Drongo is very obvious here and I have also seen Banded Kingfisher at this point. On one fortunate occasion the very beautiful Black-headed Woodpecker put in an appearance for me here.
Parakeet Pre-roost : About 3 kilometres from the Inthanon Highland Resort is an area of large scattered trees which is a regular pre-roost gathering for Blossom-headed Parakeets in the dry season. The highest number I have counted is at least 61 birds and it is likely that there are a few more. This spot is also superb for Rufous Treepie and a number of other open-country species.

To get there, turn left, down a dirt track, immediately before a small bridge, just beofre the entrance to the Inthanon Highland Resort. Follow this track, ignoring a track which joins from the left. Drive through what seems like an abandoned resort and continue until the scattered houses which form a village. At a small left hand turning you will see an obvious shelter where you can park and wait for the birds. Between 5 and 6 pm is the time to be there.

Not to Scale
Facilities

Although there is quite a range of accommodation here it ranges from grubby to adequate within the park itself, with better quality just outside. Two locations within the park have National Park bungalows; park HQ and Mae Pan. At HQ the bungalows appear to cater for large parties, and although I have never stayed here, I was told that bungalow prices started from 800 baht per night - some look quite nice. HQ also has a small shop selling a few snacks and souvenirs, including bird related items, and a new, huge restaurant for diners, which is not an improvement on the small ones which used to exist and a ridiculous waste of entrance fees.

The campsite is also located near headquarters, but far enough away from it to be inconvenient; remember to pack a torch for the walk back from the restaurants in the evening or possibly food could be arranged in the hilltribe village. There are toilets and showers here, but these can feel just a little chilly and during busy periods it can be quite noisy too. The nights here can be surprisingly cold so make sure to bring sufficient bedding if camping otherwise a good night's sleep will be difficult to come by as I found out rather dangerously in 1999: Doi Inthanon Trip Report.

Also near HQ is Mr Daeng's where he has a few, but reputably very simple, rooms which are very cheap. Food is available here and there is a bird log which can be quite informative and he has copies of his birding map available. It's worth coming here for lunch at least once just to see the vast array of excellent bird photos on the walls.
The National Park bungalows at Mae Pan are quite nice and can be rented for as little as 500 baht per night (at least that is what Doug Judell and I were charged) and have the benefit of hot showers. There is a small restaurant here too so there is no need to go hungry (or thirsty as beer is sold here).
At approximately kilometre 26 there is a simple Ecolodge, consisting of several bamboo bungalows which cost 500 baht per night. This is run by a friendly hilltribe family and is located in a peaceful spot. There is no electricity here but gas lamps and candles are provided which lend the place a nice atmosphere in the evenings. There is no food available here though, but there is some reasonable open-country birding in paddies around here.
Other facilities in the park include excellent hot chocolate, tea and coffee at the summit (toilets too); simple food, snacks and drink at the 2 chedis and barbecued chicken and ice-cream at Vatcharitan waterfall. In the rainy season the stalls at Vatcharitan waterfall are usually closed.
By far the nicest accommodation is outside of the national park with the Inthanon Highland Resort (http://www.inthanon-highland.com) being a particularly pleasant place to stay, but perhaps a little expensive at 1200 baht per night. They are used to catering for birdwatchers and will have breakfast ready early in the morning - the food here is also very good. They can be contacted by telephone +66 81 9610361 fax; +66 81 8850926. Sometimes this place gets very busy with birding groups, but there is a pleasant alternative next door; V.S.Inthanon Resort (http://www.vsinthanon.com) which prices itself at 1200 baht per night but this price is negotiable. They can be contacted on +66 83 3225101. The National Park staff will charge visitors the 400 baht entrance fee on a daily basis if staying outside of the park, something which rapidly increases ones expenses.
Nearby Chom Thong has a number of shops and a petrol station where most supplies can be found - there is even a small Tesco supermarket now where a large range of supplies can be found. There are also cash machines in the town should you run short of money! There is also a 7/11 store a couple of kilomtres along the Doi Inthanon road from Chom Thong with an ATM and various snacks.
Chiang Mai, where most visitors to Doi Inthanon will stay for at least a short period, has lots of excellent places to stay and eat.
About Google adverts
Some useful Books
Other Related Pages
Birdwatching Tours/Guiding
Other Northern Thailand Birding Locations
Photo Galleries
| | | | |
| --- | --- | --- | --- |
| | | | |
| | | | Jeep track Km 34.5 |
| Rice Terraces near HQ | Mountain View | Siritan Waterfall | Vatcharitan Waterfall from the top |
Flora and Fungi of the Km 37.5 Jeep Track
| | | | |
| --- | --- | --- | --- |
| | | | |
| | | | |
Bird Watching Trips:
Bueng Poraphet is a good site to add to your birdwatching itinerary for a large number of species and great photo opportunities. Some uncommon species can be found here and maybe a few surprises.

Look at some itinerary ideas, Thailand bird tours, or contact me for information: nickupton@thaibirding.com.
Trip Reports
by Nick Upton

by Peter Ericsson

by Peter Ericsson

by Dave Gandy

by Peter Ericsson

by Vincent Van Der Spek

by Dominic Le Croissette

by K. David Bishop

by Joe Cockram

by Patrick O'Donnell

by Peter Ericsson

by Stephen Totterman

by Nick Upton

by Nick Upton

by Nick Upton

by Nick Upton
Related Blog Entries
Doi Inthanon Summit - posted 15/08/09
Silver-eared Mesia - posted 11/01/09
The Jeep Track at Km 37.5, Doi Inthanon - posted 10/08/08
A Rainy Season Birding Trip - posted 09/08/08
Tour of Thailand, 17 January to 6 February 2008 - posted 05/03/08

About Google adverts
I Hope You Enjoyed This Page
If you found the information you were looking for here please let others know by liking this page on Facebook and Tweeting it.




Donations
If you found this page useful, please consider making a donation.