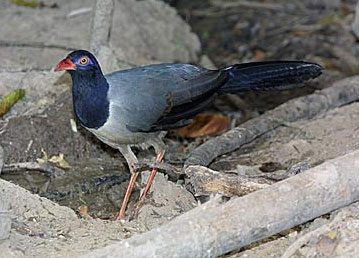 Coral-billed Ground Cuckoo
(Photo by Suppalak Klabdee)
International fame, amongst birdwatchers, has been brought to a simple, wooden restaurant at Pha Gluai Mai campsite, in Khao Yai national park, by the regular visits of Coral-billed Ground Cuckoo foraging for food scraps. This rather unusual situation is perhaps appropriate given the strange and charismatic appearance of the bird.
Restricted to Cambodia, Laos, Thailand and Vietnam, Coral-billed Ground Cuckoo is endemic to Southeast Asia and whilst its conservation status is listed as "least concern", sightings are seldom reported from anywhere outside of Khao Yai. The species' secretive ground-dwelling lifestyle make Coral-billed Ground Cuckoo a chellenging bird to find away from the Khao Yai stake-out, meaning that it is probably under recorded making it difficult to assess its population accurately. However, it is likely to suffer from hunting in some areas and in some parts of its range there is evidence of population decline.