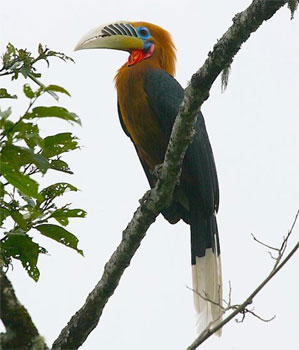 Rufous-necked Hornbill
(Photo by Robert Tizard)
With its huge size, colourful plumage and a conservation status of vulnerable, it is no wonder that Rufous-necked Hornbill is amongst the top ten most wanted species in Thailand. The campsite at Chong Yen, Mae Wong National Park has become the favourite place for observing this species, but it is by no means guaranteed here. For those wishing to see Rufous-necked Hornbill at Mae Wong, it appears that sightings are more frequent towards the end of the dry season, through the wet until October and early November.
Within Thailand Rufous-necked Hornbill has also been recorded in recent years at a number of other wildlife areas along the western border with Myanmar: Umphang Wildlife Sanctuary, Huai Kha Khaeng Wildlife Sanctuary, Thung Yai Naresaun Wildlife Sanctuary and Khao Laem National Park. Although there are historical records from other national parks, including Doi Suthep-Pui and Doi Inthanon, it is believed to have been extirpated in these.