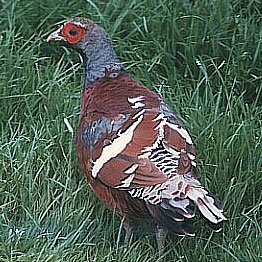 Hume's Pheasant (male)
(Photo by John Corder/ World Pheasant Association)
Hume's Pheasant has long been one of the most sought-after species by those heading to northern Thailand, so it is no surprise to see it at number four on this list.
Doi Chiang Dao has been the stronghold of the species in Thailand and it has been sighted there by many bird watchers. However, Hume's Pheasant has also been seen by visiting birders at Doi Ang Kang and Doi Suthep-Pui, although unfortunately it has also featured on the menu at the former.
A recent study of Hume's Pheasant also found the species at Mae La-Mae Sae Wildlife Sanctuary and at two new locations: Mae Daet Noi Village, Mae Chaem District, Chiang Mai, and Doi Inthanon National Park.
It is interesting to note how few birds were located in this study, around just 30 birds, which perhaps indicates how scarce the species is or, perhaps, how difficult it is to find, making a sighting even more satisfying.