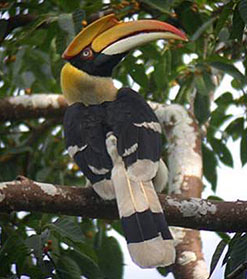 Great Hornbill
(Photo by Peter Ericsson)
That Great Hornbill features so highly on this list is testament to how easily us birdwatchers are seduced by big, colourful birds. Anyone who has witnessed a Great Hornbill uttering its "Gok, Gok" call across a forested valley, or heard the load "whoosh" of its wings in flight will attest to the fact that this is a most exciting species indeed.
Khao Yai is a great place to observe this species, where it is a fairly common bird and there can be few better memories of a trip to this wonderful national park than a sighting of a Great Hornbill foraging in a fruiting tree or flying across a valley. There are also frequent sightings from Kaeng Krachan, Khao Sok, Hala-Bala and Thalebun.
The near threatened status of this species reflects the pressures that habitat loss and hunting has had upon it, and in many parts of Thailand the sound or sight of a Great Hornbill is very rare indeed. In Thailand, Great Hornbill has suffered most in the north, vanishing from areas in which it was formerly common.