Sri Phang Nga National Park
Introduction
Sri Phang Nga National Park, in Phang Nga province, covers an area of 246 square kilometers, stretching along a range of hills parallel to Andaman Sea coast. Most of the national park is moist evergreen forest and the low altitude of the region gives birdwatchers a great opportunity to search for some of the difficult to find species from southern Thailand.

A pleasant place to stay with good birding along the access track, along with a number of short trails into the forest, Sri Phang Nga National Park is an ideal place for those wanting to investigate an area of quality habitat seldom visited by foreign birders. Additionally, this location is a good place to relax amongst beautiful surroundings, with some nice views across the forest from the well-kept campsite.

Sri Phang Nga's close proximity to Khao Sok National Park, Khao Lak and Kuraburi (the departure point for Ko Surin) mean that it is an ideal location to spend a few days at if visiting any of these areas.


Moustached Babbler
(Photo by Peter Ericsson)
Sri Phang Nga National Park is part of a much larger complex of forest which is still home to most of the large mammals characteristic of the area. Although species such as tiger, elephant and tapir are unlikely to be seen, White-handed Gibbon and Dusky Langur are frequently spotted.
About Google adverts
Birding Highlights

Black-and-Yellow Broadbill
(Photo by Banphot Kittikinglert)

Any location that has a stake-out for both Javan and Gould's Frogmouth has to be worth a visit even without the host of other southern specialities that occur at Sri Phang Nga National Park. This little visited location is not only home to birds such as Moustached Babbler, Drongo Cuckoo, Chestnut-winged Babbler and other small forest species but it is a good spot for finding colourful, medium-sized species like Banded Broadbill, Banded Pitta and Black-and-Yellow Broadbill.

Hornbills are a highlight of any birdwatching trip and Sri Phang Nga regularly provides birders with sightings of the spectacular Great and Helmeted Hornbills along with Bushy-crested Hornbill which usually travels in flocks.

Night birding can be productive here too. Along with the Frogmouths, both Oriental Bay Owl and Buffy Fish Owl have been seen in the past.
Other excellent birds that have been seen at Sri Phang Nga from time to time are Chestnut-naped Forktail, Pale Blue Flycatcher and Black Hornbill - a species very seldom encountered in Thailand.
Click here for a checklist of the birds of Sri Phang Nga
| | | |
| --- | --- | --- |
| | | Bird Tours : Check the suggested itineraries for ideas on creating a tailor-made birdwatching trip to Thailand: Thailand bird tours. |
Travel Information
Sri Phang Nga National Park (Pronounced Sree Pang Ngar), although not one of the most visited parks, is in fact easy to get to. The entrance is clearly marked from the main Khuraburi (pronounced KooRa BooRee) - Takua Pa (TakooWa Par) highway (Highway 4), 30 km south of Kuraburi, or 20 km north of Takua Pa. From the signpost for Sri Phang Nga National Park drive along the access road for 4 kilometres until reaching the headquarters.

For those without their own transport, there are plenty of buses running along this road, coming from Ranong to the north or from either Phuket, Krabi, Phang Nga or Khao Lak to the south; these buses originate from all nearby provincial capitals, including Phuket, Krabi, Phang Nga and Ranong and can be stopped anywhere on the road. Ask the bus conductor to stop at the sign for the national park, leaving 4 more kilometres to park headquarters. Four kilometres is a bit far to walk in the hot weather with luggage, but it may be the only option. If a vehicle is around, try hiring it, but it may be better for those without transport to organise a lift from either Takua Pa or Kuraburi where songthaew drivers will be available.

For those staying at Khao Sok and moving on to Sri Phang Nga it is possible to organise transport from a guesthouse - just ask the staff at the guesthouse you stay in.

Organising transport from a hotel or guesthouse for those staying at Khao Lak or Thai Muang should also be possible.
About Google adverts
Finding Birds
A number of trails and tracks offer good opportunities for general birding at Sri Phang Nga, with the track from headquarters to the picnic area being particularly good. However, as with any location, there are a few spots that provide a good chance of encountering some of the highlights.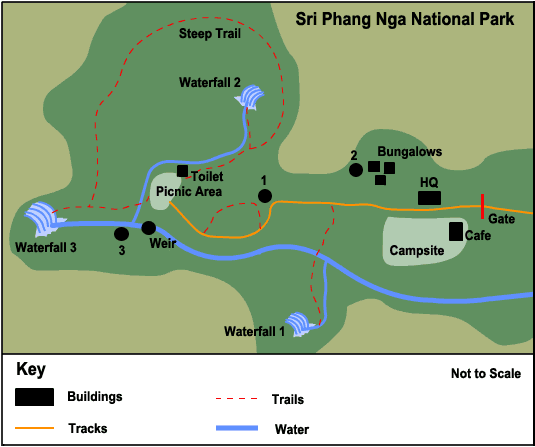 Campsite: The large campsite is a good place to get excellent views of the surrounding forested hills and is a nice spot to have a rest while looking for flying hornbills and raptors. Great Hornbills are regularly seen from this campsite in the early morning; listen out for their "Gok, Gok" call. Helmeted and Bushy-crested Hornbills can both also be seen in flight over the hills from this spot and Wallace's Hawk Eagle often soars overhead..
Bungalows: The bungalows are worth visiting to search for the Javan Frogmouth which has been seen on the forest edge at point number 2. The best chance of finding this species is to listen for its maniacal call and spotlight it after dark.

Drongo Cuckoo
(Photo by Suppalak Klabdee)

Point 1 : At this bend in the track there is a stake-out for Gould's Frogmouth. As with the Javan Frogmouth site, it is best to listen for the call and search at night with a spotlight for it.

Point 3 : Buffy Fish Owl used to be a regular at this spot, but the construction of an unsightly weir may have prompted them to move on. If anyone sees them here please let me know.

Waterfall 2 : This small waterfall is the favourite haunt of Chestnut-naped Forktail. The trail up from the picnic area is a good one, but one must walk along the small stream bed to reach the location where the forktails usually occur. The trail veers away from the stream and heads uphill, forming a loop trail back to the picnic area; this trail is the steep trail.

Steep Trail : It's been said that this trail isn't for the unfit, but it does provide a good opportunity to get into the forest and birds such as Great Argus, Hooded Pitta and Asian Paradise Flycatcher have been either heard or seen along here!
Facilities
About Google adverts
The campsite at Sri Phang Nga is a pleasant and spacious affair with public toilets provided, although campers must bring their own equipment . For those without their own tents, there are a few clean and comfortable bungalows available for rent, negotiate these with the park staff on arrival or you could attempt to organise them in advance using these contact details: Tel. 08 6952 5246, 08 9473 5007, E-mail reserve@dnp.go.th. Good luck if you try that, you'll need it.

Food and drink is available at the cafe at the campsite.

For those who prefer a bit of luxury, the Kuraburi Greenview Resort, 16 kilometres north of the national park, is a pleasant option for those with their own transport into the forest in the morning.


Kuraburi Greenview Resort

Donations
If you found this page useful, please consider making a donation.
Other Related Pages
Other Southern Thailand Birding Locations
Jan Wilczur's Bird Art: Gurney's Pitta, Banded Pitta & Rufous-collared Kingfisher
Trip Reports
Tags
birds, birding, thailand, nature, national parks