Autumn Kamchatka Leaf Warbler Phylloscopus examinandus the Bangkok Area

by Nick Upton
On the morning of 11th October 2017 I went looking for migrant birds at Sri Nakorn Kuen Khan Park. Although this park is in Samut Prakan province the area it is in is almost completely surrounded by the city of Bangkok and as such it is a refuge for migratory birds passing through this vast urban area. In the past this site has hosted a number of regionally scarce migrants including Ruddy Kingfisher, Malayan Night Heron, Siberian Thrush, Narcissus Flycatcher and it is an excellent location to study Phylloscopus warblers as they pass through Central Thailand in spring and autumn.

I have frequently found that migrant birds are rather scarce in the early morning, and it was the case on this occasion too with heavily overcast skies and some heavy rain showers throughout the morning, at first there were very few migrant species to be found but around 8.30am I came across a few common migrant species including 2 leucogenis Ashy Drongos and a single Asian Brown Flycatcher but as a sunny spell began I located a small flock of Phylloscopus warblers in a thickly-wooded part of the park. Two Eastern Crowned Warblers Phylloscopus coronatus were easily picked out but several other birds stayed higher in the trees and were much harder to observe properly. Three or four Phylloscopus warblers that were clearly not Eastern Crowned, by their lack of bright yellow undertail coverts or crown stripe, were hard to identify at first but one, then two birds called, both obviously the calls of Arctic Warbler Phylloscopus borealis and with poor light preventing me from getting to grips with the remaining birds a rain shower began and I moved away a short distance to some shelter.

As the rain began to ease I located a Sakhalin Leaf Warbler Phylloscopus borealoides on call and as I watched this bird at close range a second bird flew in and attacked the Sakhalin Leaf Warbler uttering a harsh "click" call as it came in. Although this second bird did not stay long I could clearly see it was an Arctic-type warbler and I also instantly recognized the call as that of Kamchatka Leaf Warbler Phylloscopus examinandus having seen and heard this species in May 2017 in Southeast China and having listened to recordings of the call many times. Although there are an increasing number of records of Kamchatka Leaf Warbler in Thailand, as birders learn to identify it on call, almost all of these records are in spring and I had never previously positively identified this bird in Thailand so I was keen to get a better view.

I used some call playback but received no response or interest but after about 5-10 minutes of waiting I once again heard the call and was able to track the bird down and watch it feed over a period of about 30 minutes during which time it called again twice more. You can hear a recording of Kamchatka Leaf Warbler calling, which matches almost exactly the bird I heard in Sri Nakorn Kuen Khan Park, here - Kamchatka Leaf Warbler Call.

The light conditions were very poor so the photographs I obtained do not shed much light on any possible plumage traits that Kamchatka Leaf Warbler may have that could separate it from Arctic Warbler.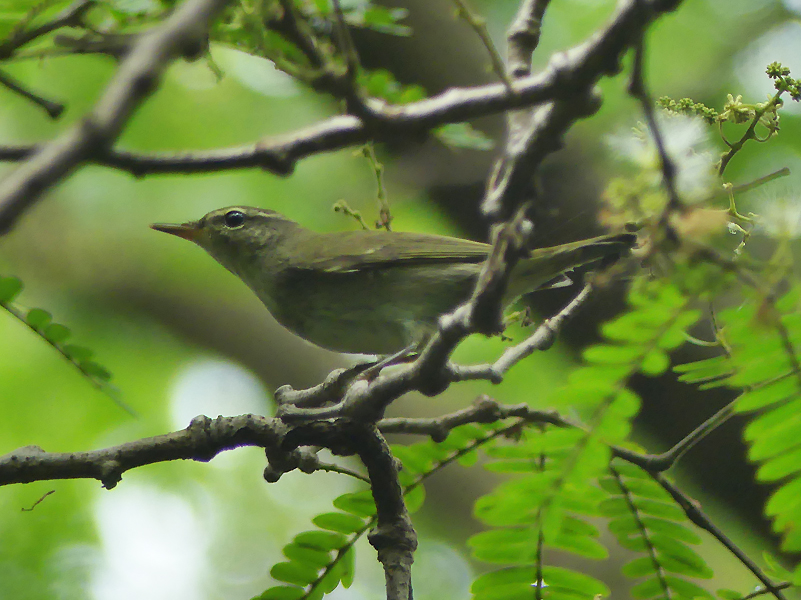 Kamchatka Leaf Warbler (Photo by Nick Upton)
Although I did notice, while watching the bird, that the undertail coverts had a distinctly yellowish hue from some angles. This feature was not as pronounced as in Eastern Crowned Warbler, but enough to make me look twice and it is something that Dave Gandy noticed in his photographs of a Kamchatka Leaf Warbler that he found in Bangkok on 4th October 2017 and identified by call which he discusses here - Kamchatka Leaf Warbler in Autumn. These yellow tones to the undertail coverts can be seen in the photograph below.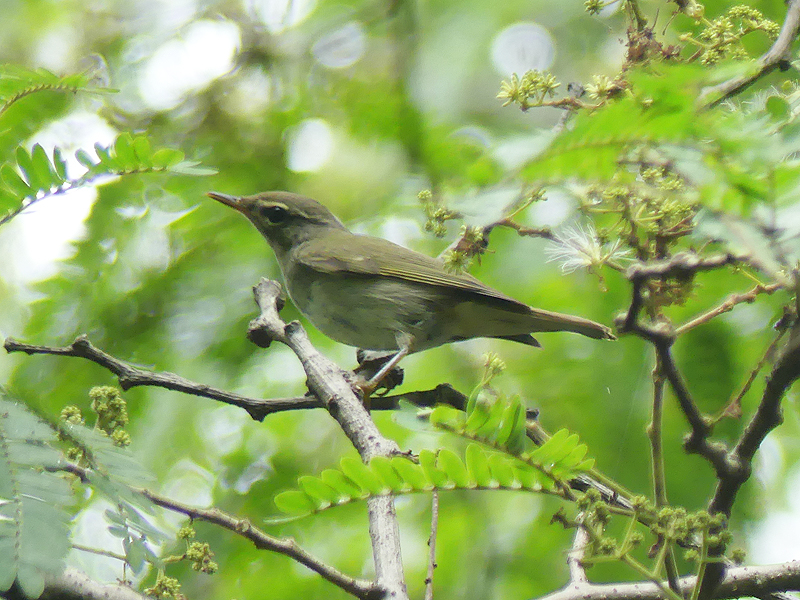 Kamchatka Leaf Warbler (Photo by Nick Upton)
I only point this feature out to encourage other birders to make observations regarding plumage details of both Kamchatka Leaf Warbler and Arctic Leaf Warbler and do not suggest that this is a diagnostic trait, indeed, Phil Round observes that the two species are not reliably separated on in the field or in the hand without hearing the call or song as there are overlaps in both morphological trends between the two species.

"The five P. examinandus were scarcely distinguishable in morphology from P. borealis (Table 1, Appendix 1 ), though tended to be slightly larger and longer-winged. One of these birds (band no. 1A04402) was markedly yellower on the supercilium and throat than typical borealis and brighter green above (Figs. 4a, 4b, and 5 ), apparently agreeing with descriptions of P. examinandus in Ticehurst (1938) and Alstrom et al. (2011). However, another individual, 1A04411 with virtually identical colouration to 1A04402, and caught on the same day (Fig. 6 ) proved to be a borealis on DNA (Appendix 1 ), illustrating the extreme difficulty of reliably separating these two species on morphology."
The full article, from which the above extract originates, indicates that Kamchatka Leaf Warbler is a regular visitor to Thailand perhaps wintering further South than Arctic Warbler, meaning that it is a bird that Thai birders should be considering when they encounter an Arctic-type warbler. The full article can be read here - Addition of Kamchatka Leaf Warbler Phylloscopus examinandus and Sakhalin Leaf Warbler P. borealoides to Thailand's Avifauna.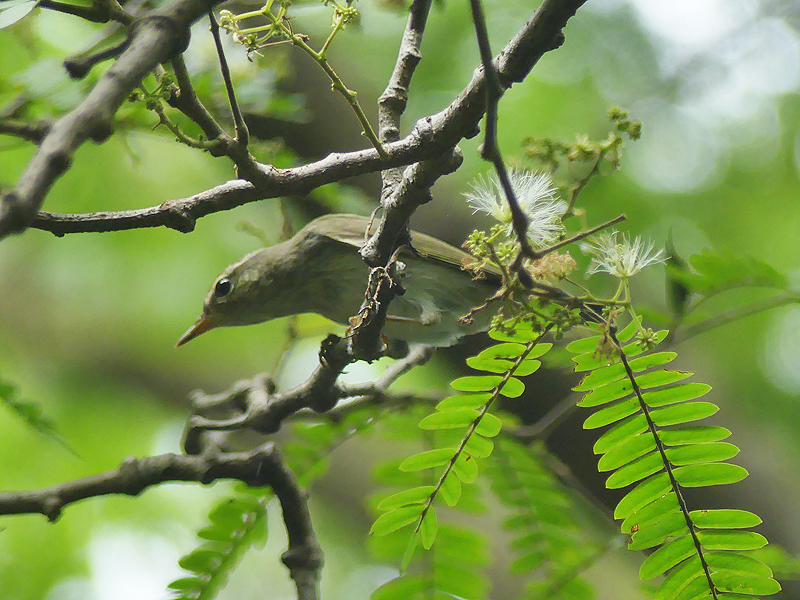 Kamchatka Leaf Warbler (Photo by Nick Upton)
However, although separation of Arctic and Kamchatka Leaf Warblers on plumage is currently considered unreliable the yellowish underparts of this bird and Dave Gandy's other autumn bird does agree with the description given in Handbook of the Birds of the World. It is worth noting that most of the literature currently available concerns birds on spring migration or on the breeding grounds and perhaps the plumage in autumn might be more distinctive? Perhaps not but it is worth keeping an open mind on this and not completely discarding observations on plumage while vocalizations remain diagnostic. Indeed, it is currently considered that it is not possible to positively identify to species level any Arctic-type warbler that is seen in Thailand without hearing the call or song. Currently these two autumn observations are less common than spring records and hopefully others will be encouraged to look for this species on its southward migration and on its wintering grounds.
Some more useful information on identifying these difficult birds can be found in the following: