Suan Lumphini (Lumphini Park)
Introduction
Suan Lumphini (Lumphini Park) is named after the birthplace of Buddha, and is one of the few sizeable areas of greenspace in Bangkok; used by many people in the mornings for jogging, tai chi and even karaoke.

The park is largely ornamental with mown grass, flower beds and various ponds, although there are a few areas where the grass is a little less cultivated and a number of ancient trees provide shade for visitors and a food source for birds. This is a good place to take an early morning stroll before spending the rest of the day sightseeing, shopping in Bangkok or lazing under a shady tree.

The migratory periods of September-October and April-May are likely to turn up the most interesting species in Lumphini Park; quite a surprising number of species have been recorded here, and of course this is where a large number of escaped cage birds end up, so be careful before ticking what you see here!

Lake at Lumphini Park
(Photo by Daniel Raica)
About Google adverts
Birding Highlights
Lumphini Park is a good place to see some of Thailand's most common birds if you are on a quick visit to Bangkok and have no time to go further afield. A surprising number of species can be found here, especially during migratory periods. Oriental Magpie-Robins can be seen hopping around and singing from trees and Coppersmith Barbets can be seen at very close quarters; a moment taken to listen to their call soon reveals how they get their name.

Pied Fantail, Large-billed Crow, Common and White-vented Mynas, Streak-eared Bulbul and Peaceful (Zebra) Dove will be seen on any short walk around the park and if the more overgrown corners are explored then a number of Flycatchers and Leaf Warblers can be found at the right time of year.

Oriental Magpie-robin
(Photo by Suppalak Klabdee)
Click here for a checklist of the birds of Suan Lumphini
| | | |
| --- | --- | --- |
| | | Birdwatching Trips : Check the suggested itineraries for ideas on creating a tailor-made birdwatching trip to Thailand: Thailand bird tours. |
Travel Information

Skytrain and statue, Lumphini Park
(Photo by Daniel Raica)

One is spoilt for options in getting to Lumphini Park; it is possible to go by a multitude of buses, taxi, tuk-tuk, underground, skytrain, motorcycle taxi or, if your hotel is nearby, simply walk.

So many buses go to the Lumphini/Silom area that it is pointless for me to list them. For bus routes it is best to buy one of the many maps available from Asia Books that include them. These come with both Thai and English script and are very useful when asking for directions!
If going by taxi ensure that the driver starts the meter; it is illegal for him not to do so and if the driver wants to haggle over the price you can be sure he is trying to overcharge you. The driver may not understand "Lumphini Park", so try the Thai version; Suan Lum (pronounce it SooWun Lum: the u in Lum should be pronounced as the oo in book) or print the Thai script and show the driver that: Suan Lumphini Thai Script.
Tuk-tuks are not metered so you must arrange a price. Tuk-tuks are cheapest for short journeys, if your journey is a long one a taxi is better, not to mention safer! Tuk-tuks can be fun to use and the cheaper you get the fare, the faster and more erratic will be the driving.
Motorcycle taxis are useful if you have to cross the city in a hurry when it is gridlocked (which is most of the time), but are extremely unsafe. In my time living in Bangkok I saw many fatal accidents involving motorcycle taxis; I wouldn't recommend using one unless you really need to beat the traffic or need to make a trip down a long side road with no other transport and little traffic.
The skytrain is a comfortable and quick way of travelling around town; if you are near a station I would recommend using this method to get to Lumphini Park. Tickets are available at the stations from machines or staff.
The new underground system is also a useful way of getting around, similar to the skytrain.
About Google adverts
Finding Birds
A surprising number of birds have been recorded in Lumphini park. The migratory periods in Spring and Autumn would be the best time to see something really interesting here; a number of migrant Flycatchers, Leaf Warblers or Shrikes can quite easily turn up during these times.
Lumphini park is often visited in hope of seeing Vinous-breasted Starling, and while it obviously makes an appearance from time to time, few people tend to see it; I certainly never have. For a good chance of observing this species try Pong Salord in Petchaburi.
Getting to Lumphini Park early in the morning is a must for birdwatchers as it can get extremely busy with runners, karaoke warbling and people passing through, not to mention the heat which becomes very uncomfortable after about 9 am.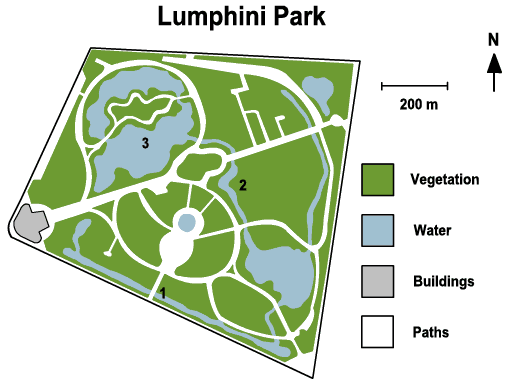 There are a few places where certain species are likely to be seen in Lumphini Park;

White-vented Myna
(Photo by Suppalak Klabdee)

Area 1: A number of mature trees here have a dense canopy and seem to hold quite a few birds. Flowerpeckers and Sunbirds abound in these trees, and in the "winter" months various Leaf Warblers frequent them in search of insects.

Area 2: Along the "stream" here there are a number of trees which seem to be favourite calling posts for Coppersmith Barbets. These trees aren't too high or too dense, so that by approaching the calling bird carefully, very close views are available. Mynas seem to like the large area of grass in this region of the park, with Common and White-vented Mynas abundant and Black-collared Starling a frequent and very handsome resident.

Ponds 3: These ponds provide the best chance of seeing some water birds, with Little Egret and Javan Pond Heron usually present; try and separate these from Chinese Pond Herons in the dry season. In spring you may be lucky enough to see both of these species in breeding plumage and as Indian Pond Heron is increasingly seen in Thailand, it is worth checking for this species too. Common Sandpiper on migration is possible here and Blue-tailed Bee-eaters often perch in a nearby tree and feed over the ponds. Some less well kept areas of the park are around these ponds which might turn up some interesting migrants at the right time of year with Taiga (Red-throated) Flycatcher virtually guaranteed.
m
Facilities
About Google adverts

Selection of boats, Lumphini Park
(Photo by Daniel Raica)

One would assume that having made it to Lumphini Park accommodation will already have been arranged. If not there are many hotels of varying price and quality in the vicinity of Silom and Surawong roads: Bangkok Hotel Reservations. Equally, due to its close proximity to shopping areas, whatever facility that is required is only a short walk away. However, if the heat is draining your energy and refreshment is needed there are a few kiosks around the park selling drinks and snacks. Sometimes various vendors can be found in or near to the park, selling such treats as fruit, ice-cream and som-tam (spicy salad). In the afternoon/evenings you may even find fried insects being sold in the park area!!!!!

If the birding isn't what you hoped for, or you simply fancy a rest, there are a variety of boats for hire to take out onto the lake. I can't say what the cost is as I have never done it myself, but I can't imagine that it is very much. There is also a "muscle beach" type area in the park for those people that wish to combine their birdwatching with an early morning workout, and for those with a weak bladder there are public toilets around the park.

Donations
If you found this page useful, please consider making a donation so that I can continue to provide free information.
Other Related Pages
Photo Galleries
| | | | |
| --- | --- | --- | --- |
| View across the Lake | Main Gate | Skytrain | Boating |
Trip Reports
Related Blog Entries
Yellow-vented Bulbul - posted 14/09/08
Olive-backed Sunbird - posted 14/06/08
Tags
birds, birding, thailand, nature, national parks