Ban Maka
(Updated 12/06/17)
Introduction
Ban Maka is a privately owned guesthouse, set within some nice gardens and next to a small lake, just a short drive from the main entrance of Kaeng Krachan national park in Petchaburi province.

A variety of habitat types within a small area means that a large number of species have been recorded on this property; lawns, ornamental plants, forest edge, bamboo groves, ponds and lakeside margins all attract their own species and nearby open-country and farmland also hold a few different species. The fact that there is always water available at Ban Maka means that when the surrounding area is at its driest these gardens become something of a magnet for birds.

Food and water is provided for birds here which makes for good viewing of some species and photographic opportunities. Helpful staff, good food and pleasant gardens make this a nice place for a lazy day and a good place to relax for non-birders.

Orange-headed Thrush
(Photo by Nick Upton)
Birding Highlights

Lesser Necklaced Laughingthrush
(Photo by Nick Upton)
Most of the species that can be seen at Ban Maka are fairly common and can be seen at many locations, but the highlight here is that really excellent, close-up views can be had of many birds in the low trees and coming to the food and water provided by the owners; White-rumped Shama and Puff-throated Babbler are fairly tame with Greater Racket-tailed Drongo and Oriental Pied Hornbill being quite spectacular garden birds.

Throughout the year both Lesser Necklaced and Greater Necklaced Laughingthrushes regularly give bird watchers a good show as do Red Junglefowl; yes, they really are wild Junglefowl as unlikely as it may seem.

A real highlight at Ban Maka appears around the end of April and stays until August/September; Blue-winged Pitta which is surprisingly easily seen here and at the same time of year several pairs of Orange-bellied Flowerpecker are present, frequently visiting feeders alongside many of the regulars.
For those who enjoy owling, Ban Maka is a good place to look for several species; Collared Scops Owl is common here and Brown Hawk Owl can often be found too. Asian Barred Owlet is best found in daylight hours but for the determined Oriental Scops Owl and Brown Wood Owl are in the area; the commoner Spotted Owlet can often be found on posts along the road outside of Ban Maka.

A checklist of the birds for this location can be found here - Ban Maka
Bird Watching Trips:
If you need help organizing a bird watching trip to Thailand, take a look at the suggested itineraries for ideas on creating a tailor-made trip and contact me for advice: Thailand bird tours.
Travel Information
Use the interactive map below to find Ban Maka. The blue line shows the routes from the Park HQ at the lakeside and the national park entry gate (Red Pins) to Ban Maka (Blue Pin).

View Ban Maka in a larger map
Getting to Ban Maka is fairly easy once having reached either Kaeng Krachan national park HQ, next to the lake, or the park gate. Detailed directions to Kaeng Krachan can be found here - Kaeng Krachan. From the HQ simply continue along the road, ignoring side turning until just before the army camp, where one should turn left. The road goes through some forest before coming to a cross-roads; here there is a sign for Ban Maka where one should turn left again. A kilometre or so along this dirt road the Ban Maka sign will be seen on the right next to a clump on bougainvillea flowers.

If coming from the national park gate birders should turn left at the first junction outside the park and proceed along the road through forest patches and farmland until reaching the cross roads where (coming from this direction) one should turn right onto the dirt road where Ban Maka is situated.

Ban Maka is most easily reached with one's own transport; getting there by public transport would be impossible without chartering a vehicle for the lastleg. However, it is possible to get to Kaeng Krachan municipality by minivan which departs from the hospital on the Petkasem Highway in Petchaburi. If you are staying at Ban Maka it would probably be possible to arrange that they collect you from Kaeng Krachan municipality at the end of your minivan journey.
Finding Birds
Ban Maka is a fairly small area so finding birds is really just a question of sitting and waiting or strolling around a bit to find feeding hotspots; the following is a run down of the basic habitat types and the birds associated with them.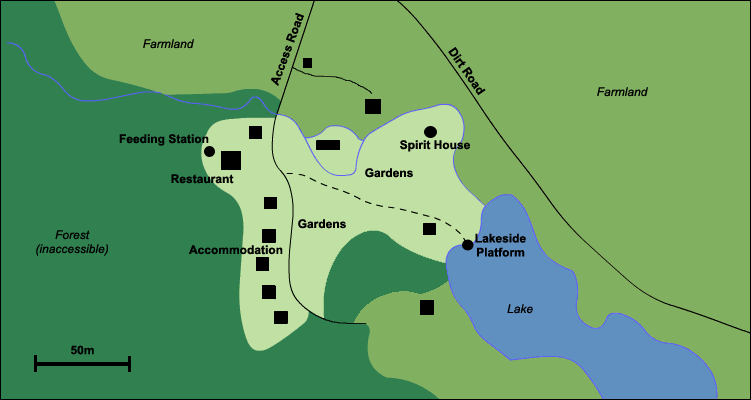 The Gardens & Restaurant: Ban Maka's gardens are pleasant and well-maintained conatinign a variety of species. The restaurant is open-plan and overlooks a cleaing with a large fallen log on which the staff normally place bananas and papaya for birds to feed upon making this a nice spot to sit with a drink and wait to see what turns up; a good place to start your photography.

Puff-throated Babbler

White-rumped Shama

Oriental Pied Hornbill


Little Spiderhunter
(Photos by Nick Upton)

Regular visitors to the fruit on the log include large numbers of Streak-eared Bulbuls, hardly Thailand's most exciting bird but at least here you can actually get to see the streaks. Stripe-throated Bulbul and Sooty-headed Bulbul also join them but more exciting are both Lesser and Greater Necklaced Laughingthrushes - both fairly common birds but they can be really hard to see, but not here. Golden-fronted Leafbird is a colourful visitor to the fruit pile and most years, in the dry season, an Orange-headed Thrush spends some time here but White-rumped Shama can always be counted upon.

Other birds that can be seen while sitting here can include Lineated Barbet, Oriental Pied Hornbill, Geater Racket-tailed Drongo, Little Spiderhunter, Tickell's Blue Flycatcher, Red Junglefowl and Pale-legged Leaf Warbler - not bad for a bird table! And for those of you who thought that Pittas were difficult to see, sit here in the early wet season and you are sure to see Blue-winged Pitta, you might even have it fly through the restaurant and over your lunch.

If it has been dry for a long period you could be lucky enough to see Scaly-breasted Partridge or Kalij Pheasant here.
Birding around the gardens will turn up some interesting birds too with the colourful Black-hooded Oriole ever present along with Lineated and Coppersmith Barbets. Listen out for Banded Bay Cuckoo and crowds of Hair-crested Drongos and Black-naped Orioles feed on flowering trees in the dry season, sometimes Chestnut-tailed Starlings or rarer Starlings will join them - I have even seen Eyebrowed Thrush joining these feeding frenzies.

A small group of bar-winged Flycatcher-shrikes is often to be found in the gardens and at the driest times Large Woodshrike will also be seen. Common Flameback is another woodland species which frequents the larger trees in the garden and, of course, many of the commoner garden birds are present; Common Iora, Olive-backed Sunbird and Scarlet-backed Flowerpecker. At night Collared Scops Owl can usually be found and sometimes other owl species can be located.
The Lake: Although the species that can be seen at this small lake are fairly easily seen in all freshwater wetland habitats, it is a photogenic spot and provides some variety to a birding session at Ban Maka and a few, tricky-to-see species can sometimes be observed here.

Water Lilies


Chinese Pond Heron
(Photos by Nick Upton)

Bird Watching Trips To Kaeng Krachan:
If you have only a few days for birding from Bangkok, Kaeng Krachan makes an excellent two or three day trip.
At any time of year a good selection of colourful forest birds are present with migrants present in the dry season and resident birds more obvious in the wet season. Ban Maka is an ideal base for exploring the national park.

Contact me to arrange a trip and/or to discuss the best birdwatching options for you: nickupton@thaibirding.com

Some common waterbirds are ever-present here including Little Egret, Chinese Pond Heron and White-throated Kingfisher but the emergent vegetation often holds Yellow Bittern and sometimes birders are lucky enough to see Cinnamon Bittern in flight too. A few other waterbirds are frequently seen here including Bronze-winged Jacana; Black Bittern occasionally shows up during migratory times too.

The Typha growing in the water plays host to Oriental and Black-browed Reed Warblers in the dry season and while they are both common migrants they are hard to see; sitting on the chairs on the pier will give patient birders a chance to eventually see these birds well as they emerge at some point from the vegetation.

Common Moorhen and White-breasted Waterhen are both also frequent here but you may also be lucky enough to see Ruddy-breasted Crake in the watery margins. Although both Red-breasted Crake and Slaty-legged Crake are regularly seen at nearby sites it is worth remembering that these are secretive forest birds and not particularly likely to be seen at the lake.

For those who have tired of tough forest birding in the national park, a morning sat by the lakeside here could provide some nice, relaxing birding.
The Road & Surrounding Farmland: The dirt road leading to Ban Maka has a few birds of interest even though it passes through largely sterile pineapple plantations. Common open country birds can be seen readily and Indian Roller is extremely common, seen sitting on overhead wires. Indochinese Bushlark is often found by the roadside and Barn Swallow flocks frequently sit on the wires or bathe in the dust along with Red-rumped Swallows.

Indian Roller

Red-wattled Lapwing

Indochinese Bushlark


Barn Swallows
(Photos by Nick Upton)

One of the most interesting species to be found in this habitat is Chinese Francolin. It is certainly not common but can be heard calling from the farmland and sometimes it is seen on the road itself; other ground birds here include Barred Buttonquail, Blue-breasted Quail and Yellow-legged Buttonquail - none are common but there is always the possibility of a sighting.

A number of large, bare trees in the farmland are worth scanning in the early morning and late afternoons, or after a rain shower, as interesting sightings are occasionally made. In the past these have included Ashy-headed Green Pigeon but species such as Coppersmith Barbet, Asian Koel and Banded bay Cuckoo are more likely. Small numbers of Vinous-breasted and Black-collared Mynas are in the area and are most likely to be found be open areas.

At night birders are almost certain to see Large-tailed Nightjars on the dirt road; if not listen out for their call and spotlight them on posts. Those who like night birding can also find Collared Scops Owl, Brown Hawk Owl and, sometimes, Oriental Scops Owl in scrubby areas along the road and Spotted Owlet often sits on posts and wires.
Facilities


Lakeside at Ban Maka
(Photo by Nick Upton)
As Ban Maka is a guesthouse it is natural that there is accommodation and food on site. Accommodation is in simple but clean bungalows which are dotted around the gardens, some of which have parking right next to them, which is useful for those with limited mobility; the bungalows are comfortable with private showers and air conditioning.

Food at Ban Maka is really good and always cooked freshly to order. Most conveniently the staff are used to catering for bird watchers so early breakfasts and packed lunches are not a problem. Most of all the staff are very helpful and any reasoable request is handled efficiently.

WiFi is available in the restaurant area but not in the bedrooms. Internet speed here can be very slow indeed when lots of birders are using it in the evening so do not rely on the internet here for important business.
There are some small convenience stores in nearby villages but the nearest ATM machine is a 25 minute drive away at Kaeng Krachanmunicipality where there is also a 7/11 convenience store and a few local foodstalls that stay open very late if your arrival time is after about 9pm when the kitchen of Ban Maka closes. These days there is also a minimart close to the national park gate.

Ban Maka is not a national park so there is no fee for birding here, but as it is a privately run guesthouse you need to be staying here if you want to be birding in the grounds; view the guesthouse's website for further information - Ban Maka Chalet.
Useful Books
Other Related Pages
Ban Maka Bird Checklist
Review of Ban Maka - Bird Watching & Photography
Kaeng Krachan National Park
Birdwatching Trips
Other Western Thailand Birding Locations
Photo Galleries
Select the thumbnail photos to see larger images.
| | | | | |
| --- | --- | --- | --- | --- |
| Banana Flower | Lakeside | Reeds & Sunset | Fan Palm | Fungi |
| The Lake | Burmese Striped Squirrel | Flower | Northern Treeshrew | Grey-bellied Squirrel |
Birdwatching Trips:
Ban Maka makes a nice lazy morning's birding as part of your visit to Kaeng Krachan as well as some nice mid day bird viewing for those who do not wish to slog around the forest all day. A stay at Ban Maka is always pleasant and rewarding for bird sightings too.

Take a look at some suggested itineraries and contact me for more information: Thailand bird tours.
Trip Reports
Related Blog Entries
Daap Waterhole, Kaeng Krachan - posted 21/04/17
Central Thailand Birding - posted 10/03/17
Petchaburi Birding Trip - posted 18/01/17
Photography at Ban Song Nok - posted 27/11/16
Kaeng Krachan & Nearby Sites - posted 06/05/16
Great Birding at Kaeng Krachan - posted 07/03/16
Lung Sin Waterhole - posted 01/01/15
Birding at Kaeng Krachan - posted 05/02/13
Slaty-legged Crake at Lung Sin Hide - posted 18/12/12
Hornbill at Ban Maka - posted 05/05/09
I Hope You Enjoyed This Page
If you found the information you were looking for here please let others know by liking this page on Facebook and Tweeting it.




Donations
If you found this page useful, please consider making a donation.