Hellfire Pass
(Updated 15/05/14)
Introduction
Hellfire Pass is the nickname given to Konyu cutting, of the Thai-Burma railway, by the Allied prisoners of war that were forced to work on it. This stretch of the railway bed is located close to the famous river Kwai, and there is still a lot of secondary forest located along the route.

A 4.5km walking trail through the forest, following the railway makes this a fairly interesting birding location and birders travelling with a non-birding partner can use the interesting and thought-provoking museum as an excuse to visit and get into the forest. Although quite a number of nice birds can be seen as one walks along the trail, the main reason for visiting this location is for those with an interest in the history of the events of World War II in Southeast Asia; I include Hellfire Pass as a site which offers bird watchers a chance to see Limestone Wren Babbler - a species with a restricted range in Thailand.

When walking the trail, sweating and being bitten by the extremely numerous mosquitoes, spare a thought for the prisoners of war and Asian labourers who were forced to work in these conditions with insuficeint food and water until they dropped! There are some interesting birds to be seen at Hellfire Pass, but overall this is a very sombre place.

Hellfire Pass
(Photo by Nick Upton)
Birding Highlights

Lesser Necklaced Laughingthrush
(Photo by Nick Upton)
The ornithological highlight here is undoubtedly Limestone Wren Babbler. This species has very a restricted range in Southeast Asia, being confined to areas with outcrops of limestone, as its name suggests. Two subspecies exist in Thailand; crispifrons, which is dark brown and fairly large, and this is the race found at Hellfire Pass; the other race in Thailand is calcicola, which is smaller and lighter in colouration, resembling Streaked Wren Babbler and is found only in Saraburi and Lopburi provinces of central Thailand.

Limestone Wren Babbler really is the stand-out bird here but a walk along the trails will give birders the opportunity to see many other common forest species, such as Tickell's Blue Flycatcher, Black-hooded Oriole, Greater Necklaced Laughingthrush and Lesser Necklaced Laughingthrush. In the wet season Blue-winged Pitta can also be found and there is a lot of potential to add to the very incomplete checklist for the site, particularly if visiting during migration.
A checklist of the birds for this location can be found here - Hellfire Pass
Bird Watching Trips:
If you need help organizing a bird watching trip to Thailand, take a look at the suggested itineraries for ideas on creating a tailor-made trip and contact me for advice: Thailand bird tours.
Travel Information
Use the interactive map below to plan your route to Hellfire Pass. The blue line shows the route from Kanchanaburi (Blue Pin) to Hellfire Pass (Red Pin).

View Hellfire Pass in a larger map
Getting to Hellfire Pass is a simple affair. If driving, head towards Kanchanaburi (pronounced Garn Ja Na Boo Ree) and take the main road towards Sangkla Buri on the Thai/Myanmar border. After around an hour the Hellfire Pass war memorial museum can be seen on the left; there is ample car parking here.

Arriving by public transport really is not much more difficult. Buses to Kanchanaburi originate from all nearby provincial capitals, but if coming from Bangkok one must go to the Southern bus terminal where there are buses that leave every 30 minutes. From Kanchanaburi any bus going to Sangkla Buri will stop to let you off at the memorial museum and equally it should be easy enough to flag a bus down for the return journey.

The bus journey from Bangkok takes around 2.5 hours and from Kanchanaburi to Hellfire Pass can take quite a while due to the poor standard of the buses. On the way back to Kanchanaburi it may be worth hitch-hiking which is quite easy and safe in Thailand and can be quite entertaining; anyone with an open-backed pickup is likely to stop for you.

There is also the option of getting to Kanchanaburi by train. If this interests you then head to Thonburi train station in Bangkok. This trip is reported to take 2 hours 40 minutes with third class being tolerable and offering some nice sights along the way.
Finding Birds
This location isn't one which is on the regular birding circuit in Thailand as it is not particularly rich in birdlife, however, it remains one of the only places that I have seen the sought-after Limestone Wren Babbler which is relatively easy to see. The walking trail offers a chance to see plenty of other common forest birds.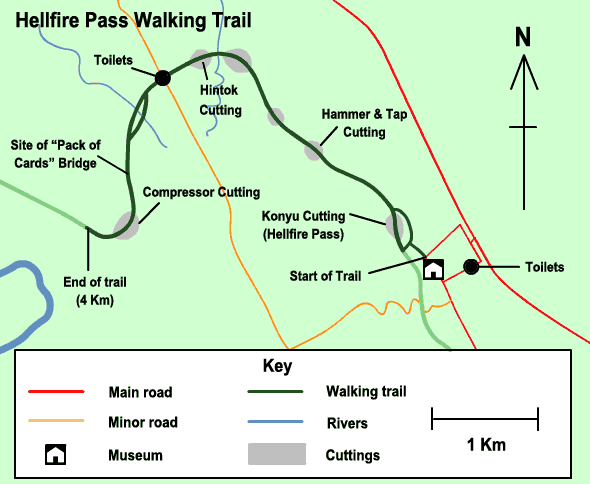 There are a few places at this location where birds characteristic of the habitats may be found;
Museum Entrance Area: Common species associated with open country can be seen around the car park and in the surrounding trees, including White-rumped Munia, Common Iora, Olive-backed Sunbird and Common Tailorbird.

Puff-throated Babbler

Greater Necklaced Laughingthrush

Common Iora


Pin-striped Tit Babbler
(Photos by Nick Upton)

Konyu Cutting Trail: This narrow winding trail goes through bamboo forest and rocky outcrops and runs for a few hundred metres. This trail perhaps offers the best chance to see Limestone Wren Babbler; I have seen it on both of my visits, more than 10 years apart! The Babblers can come quite close so be ready with your camera for photographs and be careful of slippery and collapsing steps. Birds such as Yellow-bellied Warbler, Tickell's Blue Flycatcher, White-rumped Shama and Puff-throated Babbler are also very likely to be encountered along here.

Walking Trail: The 4.5 kilometre long walking trail follows the route of the old railway, proceeding mainly along forest edge, where birds such as Striped Tit Babbler and Black-naped Monarch live, with some picturesque viewpoints over the surrounding countryside. The forest here consists of a mixture of bamboo and trees (both native and non-native) on a steep rocky slope. Limestone Wren Babbler inhabits this area too but can be hard to observe as it jumps around the rocks and flocks of Greater and Lesser Necklaced Laughingthrush can turn up anywhere along here. Listen for Black-hooded Oriole and Hill Myna and you may spot them perched in the larger trees and Bulbuls will be seen feeding on fruit and flowers in the canopy.
Make sure you take some water and insect repellent with you if you are walking the length of this trail, it can get extremely hot and the mosquitos are rampant!
Facilities


Noodles & Drink
(Photo by Nick Upton)

At the museum there are clean toilets and there is a small restaurant sellingsimple food and cold drinks close to the car park. In terms of accommodation there are a variety of guesthouses, small hotels and resorts scattered all along the road and in the town of Kanchanaburi itself there is all sorts of accommodation, ranging from quite luxurious hotels to grubby backpacker guesthouses: Kanchanaburi Hotel Reservations. I have stayed in a few of these but could not really recommend anything that stands out; everywhere seems adequate.

Kanchanaburi is a fairly busy town and anything can be purchased here; the fruit market is pretty good and I would recommend Durian, Mangosteen and Rambutan. In and around Kanchanaburi are the war cemeteries where thousands of Allied prisoners of war that died working on the railway are buried. These cemeteries are very well kept and thought-provoking places. Along the river valley there are various floating resorts that appear quite nice, and way up the valley towards Sangkla Buri there are some quite nice looking resorts and some really lush forest that would be worth exploring.
Hellfire Pass is not a National Park and there is no entry fee to go birdwatching there, although in the museum there is a donations box to help with the upkeep of the exhibits and walking trails.
Useful Books
Other Related Pages
Hellfire Pass Bird Checklist
Birdwatching Trips
Other Western Thailand Birding Locations
Limestone Wren Babbler at Wat Pra Phutthabat Noi
Photo Galleries
Select the thumbnail photos to see larger images.
| | | | | |
| --- | --- | --- | --- | --- |
| Limestone Stairway | Wren Babbler habitat | Walking Trail | Hellfire Pass | Symbolic Tracks |
| Scenery | Walking Trail | Memorial | Remembrance | Rail Equipment |
Birdwatching Trips:
Hellfire Pass makes a nice morning's birding as part of a longer birding trip, visiting other nearby sites, or if you wish to see the nominate race of Limestone Wren Babbler. The calcicola subspecies is easy to see in Saraburi and fits more sensibly into longer birding itineraries.

Take a look at some suggested itineraries and contact me for more information: Thailand bird tours.
Trip Reports
Related Blog Entries
Limestone Wren Babbler at Kanchanaburi - posted 16/05/14
I Hope You Enjoyed This Page
If you found the information you were looking for here please let others know by liking this page on Facebook and Tweeting it.




Donations
If you found this page useful, please consider making a donation.