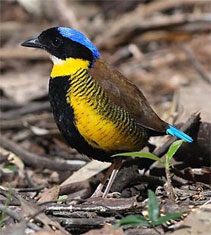 Gurney's Pitta
(Photo by Suppalak Klabdee)
More than 20 years after its redsicovery in 1986 (there were no field observations between 1952 and 1986), Gurney's Pitta remains the number one target bird of visiting birdwatchers. Despite the discovery of a sizeable population of the species in Myanmar in 2003, the remnant population at Khao Nor Chu Chi, in southern Thailand, remains the only realistic opportunity to see Gurney's Pitta for most birdwatchers.
The almost total clearance of lowland forest in southern Myanmar and peninsular Thailand through clear-felling for timber, unofficial logging and conversion to croplands, fruit orchards, coffee, rubber and oil-palm plantations has meant that despite once being common across much of its range, it is now classified as critically endangered.
Indeed, the appeal of Gurney's Pitta is probably the combination of its stunning appearance and its status as a critically endangered species; despite the discovery of the population in Myanmar, this status, as yet, has not been reclassified, probably due to the difficulty of getting the remaining habitat protected and the expansion of logging and palm oil plantations in southern Myanmar.